Can't Find What
You're Looking For?
Give Us
A Call:

01835 822277
South of Scotland
Stretching from the now peaceful border between England and Scotland, to the bright lights of the capital Edinburgh and the vibrant city of Glasgow - the South of Scotland has a level of variety not offered in any other part of the country.
South of Scotland Self Catering Cottages
Holidays in the beautiful and easily accessible South
The fact that Southern Scotland is so accessible and can be reached without many hours of costly driving is just one reason why it should be worthy of consideration as a holiday destination. It is a pity therefore that many visitors hurry past on their way to the better known Highlands or the West Coast. Those who do decide to linger awhile and explore further, however, are very often so entranced by this historic, beautiful and accessible region that they return again and again.

Ayrshire has beautiful magnificent long sandy beaches, sailing opportunities and views to the Isle of Arran which again has lovely beaches.

A most attractive area of sandy beaches and rolling countryside with attractions that include the renowned mountain biking centre at Glentrool.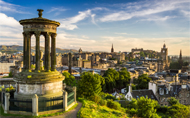 Scotland's famous capital city draws in tourists to see its famous castle, shop on Princes Street, explore its old town and see the festival that happens every August.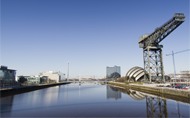 Glasgow is a bustling cultural centre with museums, galleries and great shopping. This year it is also home to the Commonwealth Games.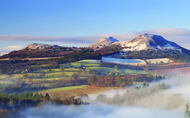 The Scottish Borders has a beautiful landscape of green hills, forests and famous fishing rivers, with, lots of walking and many ruined abbeys and castles to explore.
Far more important are such factors as its beautiful landscape of green hills and peaceful valleys, woods and forests, pretty towns and a wonderful historic legacy in the form of castles, stately homes, ruined abbeys, peel towers and the like.
Lots to see and do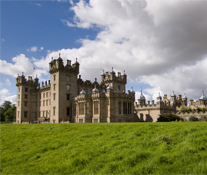 It is also an area where active guests will find so much to divert them – superb mountain biking trails throughout the region, great fishing rivers such as the Tweed and the Nith, a strong horse culture with wonderful riding country and of course the spectacular Borders Common Ridings in the summer.
There is also plenty of walking the hills and such trails as the Southern Upland and St Cuthbert's Ways, as well as golf courses such as Muirfield and Luffness - the list goes on.
Then there are Edinburgh and Glasgow, both with a rich cultural heritage and the area's beautiful coastlines, beaches and cliffs, with some spectacular seabird sanctuaries.
Discover
The Tweed Valley
An area of rolling countryside with plenty to see and do including award winning mountain biking trails.
Quick Links to South of Scotland Areas