The Kilninver Estate
Kilninver on the famous west coast of Scotland some 8 miles south of Oban is a fine country estate boasting four much sought after traditional stone holiday houses which enjoy marvellous views over the sea loch Loch Feochan to the islands of Kerrera and Mull.
Kilninver Estate Self Catering Cottages
Exploring the Estate
This estate embraces some 2,500 acres of open hill country and woodlands (with lovely walks, spring flowers and plenty of wildlife), the River Euchar (salmon fishing is chargeable) and two inland lochs (fun trout fishing is included throughout the fishing season), as well as some spectacular coast with a great variety of birds.
The small island of Seil is approached via the 'Bridge across the Atlantic' just four miles down the road and from nearby Oban (with shops, restaurants, hotels, an 18 hole golf course and a swimming pool) you can enjoy sea fishing or boat trips to the Islands of Mull, Staffa, Iona, Lismore, etc.
Each house is individually and stunningly situated in this area of great natural beauty, well off the road with surrounding countryside where children can play freely. The Old Manse and Old Kirk also have an indoor playroom housing table tennis.
Fishing on the Kilninver Estate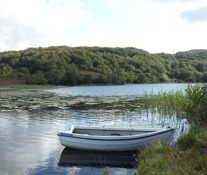 You can enjoy superb fishing on some 3 km of the River Euchar. The beat includes a mix of single and double bank fishing covering some 28 named pools from Upper Trinity to the White Stone pool at the estuary.
The Euchar is very much a spate river with the first runs of fish starting in early summer with the main runs occurring in August through to October. The Euchar beat can be booked by the week or on a daily basis.
Lochs Charn and Seil offer fishing for wild brown trout. Loch Feochan offers opportunities for sea anglers with pollock and mackerel the most common catches. Loch fishing is free to holiday tenants and is also available to visitors on a day ticket basis.