Dumfries & Galloway
Often unjustly overlooked as visitors hurry north to the Highlands, Dumfries and Galloway is a most attractive area of sandy beaches, rich farmland, heather hills, lochs and forests.
A Vast Area to Explore
Dumfries & Galloway is the large area comprising the south-west of Scotland, stretching from Stranraer in the west, to Gretna in the east and Moffat and Sanquhar in the north.
Its unique attraction is the Solway Firth and its 200 miles of coastline which has fine beaches and provides plenty of opportunities for fishing, sailing and other water sports. The area attracts many birds who settle here for the winter, such as barnacle geese and there are many nature reserves and marine centres.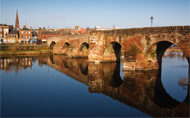 Dumfriesshire straddles the River Nith, with it's county town Dumfries. It also encompasses the former burgh and spa town Moffat.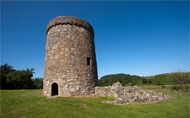 Kirkcudbrightshire has lovely beaches and great walking and cycling inland. It is also one of the first Dark Sky Parks in Scotland.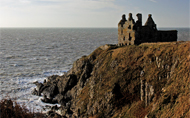 Wigtownshire stretches down to Scotland's south westernmost point and you can even take the ferry across to Ireland from Stranraer.
So Much to See and Do
Galloway Forest Park covers 300 square metres of forest, woodland, lochs and mountains and is teeming with wildlife, including red deer and birds of prey. The mild climate created by the Gulf Stream has allowed subtropical trees and plants to flourish in the many famous gardens which are open to the public. It also encompasses lovely Glen Trool and is a premier mountain biking centre.
The region has an interesting and diverse history, having been conquered and inhabited by the Picts, Romans, Anglo-Saxons and Irish Celts with close links being maintained with the Vikings. Christianity was brought to Scotland by St Ninian who set up a mission at Whithorn. Robert the Bruce launched his campaign to rid Scotland of English rule from Loch Trool in Galloway Forest Park and the area is often referred to as 'the cradle of Scottish independence'.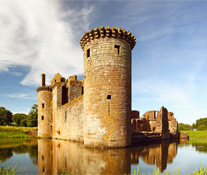 Popular historical attractions in the area include the medieval fortress of Caerlaverock Castle, a triangular moated castle that was involved in brutal cross border conflicts in its time due to its proximity to England. Sweetheart Abbey is also worth a visit ' this remarkably complete Cistercian Monastery is surrounded by an impressive precinct wall with the rest of the grounds open to explore. Scottish Heritage passes are available to purchase and they allow free entry to both of these historical sites as well as 150 others across Scotland.
Quick Links to Dumfries & Galloway Areas
Annandale |Drummore | Langholm | Lockerbie | Moffat | Newton Stewart | Nithsdale | Stranraer & Portpatrick