Wigtownshire
Wigtownshire now has a great reputation as 'The Book County'. The little country town of Wigtown hosts a book festival in September each year and in 1998 was named as Scotland's 'National Book Town' due to the 24 bookshops which are located in or near the square.
Rolling Countryside to Explore
The Machars is a large peninsula of rolling countryside within Wigtownshire that derives its name from the Gaelic machair which are the sandy grasslands that border the sea.
Whithorn, a medieval market town at the south of the peninsula, was where St Ninian built the first Christian mission north of Hadrian's Wall in 397AD (nearly 200 years before St Columba established the mission on Iona). His remains were buried in Whithorn Priory to which many made a pilgrimage, including Mary Queen of Scots in 1563. Hence the name of the meandering Pilgrim's Way from Glen Luce (a 100 mile round trip on quiet roads and tracks). The ruins of the Priory have been excavated and many of the finds and further interpretation are to be found at the Whithorn Trust Discovery Centre and Whithorn Museum.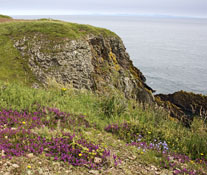 Pilgrims used to land on the Isle of Whithorn on the southern tip of the peninsula which is now linked to the mainland by a causeway. It has a natural harbour and nearby is St Ninian's Cave, where the saint used to pray and the 13th century St Ninian's Chapel that was built for pilgrims landing by sea.
To the west, the area traditionally extends to the Rhinns of Galloway and the south westernmost point of mainland Scotland, where there are more beaches, gardens at Port Logan and the attractive village of Portpatrick clustered round its harbour.
Quick Links to Wigtownshire Areas