Perthshire
Perth and Kinross is a beautiful region of Scotland with a diverse landscape of mountains, lochs, rivers, woodlands, barren moors, fertile farmland and the river plains around Perth. Perth, known as the 'gateway to the Highlands', straddles the River Tay before it widens out into the Firth of Tay. It is an ancient town, having been inhabited by Romans, Picts and Celtic missionaries.
A Varied Landscape to Discover
The name Perth comes from the fact that the Romans christened their settlement here 'Bertha'. Through the middle ages and when it was the capital of Scotland it was known as St John's Toun of Perth and this association is retained in the name of the local football team, St Johnstone.
Northern Perthshire has glorious scenery, a wide variety of landscapes and the famous tourist draws of Blairgowrie and Pitlochry.

Southern Perthshire has an attractive, spacious landscape of gentle hills, rich farmland and the beautiful fresh water Loch Leven.
Perthshire is often referred to as 'The Big County' and aside from its own myriad charms its central position and excellent transport connections makes it an ideal base for exploring in all directions. Edinburgh, Glasgow, Stirling, Dundee and the Angus coast, the Cairngorms, Inverness, St Andrews and Fife in general are all perfectly feasible for enjoyable day trips.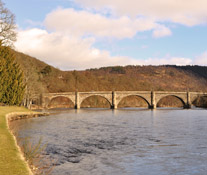 The wooded hills and valleys north of Perth provide a stunning setting for small towns and villages such as Crieff, Dunkeld and Aberfeldy. The area offers an abundance of leisure activities - salmon fishing, walking, climbing and watersports on the lochs, as well as lots of places of historical interest to explore.
The area north of Dunkeld is often referred to as 'Highland Perthshire' and it is easy to see why: heading north you see ahead of you how the hills begin to close in. Then it is goodbye to the rich, rolling countryside of the southern part of the county and hello to the mountains and moorlands, lochs and glens and the kind of scenery which most visitors would associate with the actual Highlands further north.
Quick Links to Perthshire Areas
Aberfeldy | Blair Atholl | Blairgowrie | Comrie | Crieff | Dunkeld | Fortingall | Glen Lyon | Kenmore | Killin | Loch Earn | Loch Rannoch | Loch Tay | Loch Tummel | Perth | Pitlochry | St Fillans | Strathearn