Perth
Perth, the 'fair city' was once the capital of Scotland and it won its city status back in 2012 after losing it in 1975. Its rich history is documented by various museums including the Black Watch Museum within Balhousie Castle that tells the history of the famous military regiment and Perth Museum and Art Gallery where there are more than half a million fascinating objects on display.
Plenty to See and Do
Perth is set alongside Scotland's longest river the River Tay that is renowned for its excellent wild salmon fishing. As part of the River Tay Public Art Trail a picturesque walk leads along the side of the river taking in a series of interesting sculptures along the way.
In walking distance from the city centre are Branklyn Gardens where there are two acres to explore and lots of beautiful plants and flowers to admire including the unusual Himalayan blue poppy. The city also has a race course with a programme of events throughout the year should a flutter on the horses beckon.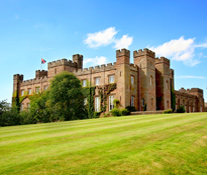 On the outskirts of Perth is impressive Scone Palace where tours can be taken in order to admire the splendour within where many Scottish Kings were crowned over the years. The gardens are pretty to wander around whilst keeping an eye out for red squirrels along the way and the Murray Star Maze that is made up of over 8,000 trees is always a hit with children and adults alike.
The outlying village of Stanley was created as housing for the workers of the Stanley Mills cotton mill that closed in 1989 and now houses an interactive exhibition showing how the power of the River Tay was harnessed to spin and weave yarn. Another of the little villages spread out across the beautiful surrounding Perthshire countryside is Luncarty where it is possible to fish for salmon and sea trout in season.