Mull & the Isles
Mull is sometimes known as the enchanted isle. The combination of spectacular scenery, the captivating light on the land and the feeling of space and tranquillity, creates an unforgettable experience. There are over 300 miles of coastline to explore with fabulous sandy beaches, secluded coves and inlets where you may be quite alone. No visit would be complete without a visit to the captivating Isle of Islay.
Exploring the Inner Hebrides' second largest island
The Island of Mull in the Inner Hebrides is one of Scotland's most famous and favourite islands and it is also one of the easiest to get to as it is not too far north and car ferries take you the short distance across the Sound of Mull from Oban, Ardnamurchan and Morvern at fairly frequent intervals.
The beauty of its setting to the west of Oban and south of the Morvern peninsula from which it was torn many thousands of years ago by glacial action, is renowned. These same glaciers and the cataclysmic volcanoes which gave birth to Mull eons ago endowed it with a very special environment of hills and mountains, fine forests, rivers and waterfalls that today supports a rich variety of wild flowers, birds and animal life.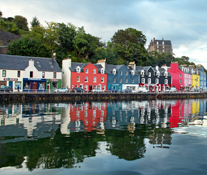 The penetrating ice gouged dramatic bays and beaches along the 300 miles of coastline which, mainly protected from the full assault of the Atlantic Ocean by The Outer Hebrides, are rocky; but shell sands are found at Calgary in the north, and on the Ross of Mull. Off the coast there are plenty of boat trips to neighbouring islands such as Iona with its famous Abbey and Chapel; to The Treshnish Isles and Staffa with their colonies of puffins and the geological wonder of Fingal's Cave which so impressed Mendelssohn.
There is whale and dolphin watching and at low tide you can walk to the Island of Erraid - the shipwreck site of David Balfour in R.L. Stevenson's famous book 'Kidnapped'. Tobermory with its colourful 18th century stone houses borders the bay where a Spanish Armada galleon was blown off course in a 16th century storm lies buried in the deep. Also worth visiting is Duart Castle, the ancient seat of the Clan MacLean, one of the eight sentinel castles along the coast whose beacons in the olden days warned of approaching danger. Beautiful Torosay Castle with its gardens should also be on your itinerary. There is golf at Tobermory and Craignure; fishing on many of the island's rivers and lochs; wonderful walking; pony-trekking and plenty of restaurants in which to refresh yourselves after an eventful day.