Isle of Islay
The island of Islay is principally famous for two things - birds and whisky! Bird watchers flock to see the legions of geese who visit the island each year and there are no less than seven distilleries on Islay, all turning out its signature peaty malts.
Near Bridgend, Isle of Islay
Sleeps: 4/10
Bedrooms: 5
Pets: Yes (1)
Changeover Day:
Sat



Sleeps: 6
Bedrooms: 3
Pets: No
Changeover Day:
Sat



Last Minute - w/c 02 Dec 23
A Beautiful Island to Explore
Islay is reached by a two hour ferry crossing from Kennacraig on western Kintrye or by air from Glasgow airport. It is characterised by attractive villages of 18th century whitewashed cottages and beautiful sandy beaches that are scattered around the island. There are three principal settlements – Bowmore, Port Charlotte and Port Ellen.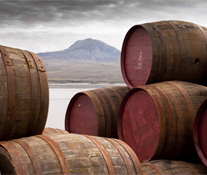 It is best known for its seven single malt whisky distilleries (which offer guided tours), the Islay Festival of Malt and Music in late May/early June and its birdlife, such as golden eagles and over-wintering barnacle and white-fronted geese, most commonly found at the Loch Gruinart RSPB nature reserve.
Other attractions include the Wildlife Information Centre and Museum of Islay Life at Port Charlotte and the site of prehistoric crannogs at Loch Finlaggan, also the site of the medieval capital of the Lords of the Isles during the 12th to 16th centuries. There is also a wave-powered generating station at Portnahaven.
Isle of Jura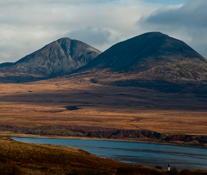 The main feature of Jura is the mountains called the Paps of Jura, popular with experienced climbers.
There are many walks on the island and through the grounds and walled garden of Jura House and to the Corryvreckan Whirlpool between the northern end of the island and Scarba. George Orwell wrote much of his novel 1984 when he was staying at Barnhill in the north of the island.
Isle of Colonsay
Colonsay is popular with hill walkers as it has 22 McPhies (hills over 90 metres). It also has lochs, cliffs and sandy beaches, particularly at Kiloran Bay and Balnahard Bay.
The Woodland Garden at Colonsay House has a magnificent collection of rhododendrons and exotic trees and the ruins of the 14th century Augustinian Oronsay Priory lie on a small island off Colonsay.