Inverness & Loch Ness
The 'capital of the Highlands' Inverness is a vibrant city offering every conceivable facility in terms of culture, sports, dining and shopping. It has a lovely situation where the Moray Firth narrows into the Beauly Firth and dolphins can often be spotted in the channel under the Kessock Bridge. Another prime site for dolphin watching is at Fort George, to the east of the city towards Nairn, a pleasant town with fine beaches and a golf course. Also in that direction is the haunting battlefield at Culloden.
A Beautiful Area to Explore
South of Inverness lies Loch Ness itself, home of the fabled Loch Ness Monster. Whether or not 'Nessie' actually exists, the loch (the longest in Scotland), is a beautiful place. It has the charming village of Fort Augustus at it southern end and the historic ruin of Castle Urquhart near Drumnadrochit on its western shore.
Inverness overlooks the wide expanse of the Moray Firth to the north-east and is surrounded by mountains to the south and west. It was founded in the 12th century but the oldest of the present-day buildings are early-mid 19th century as a result of the construction of the Caledonian Canal.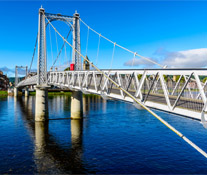 Its main attraction for visitors is (apart from shopping) as a base for exploring Loch Ness and the surrounding area. It does, however, have a few places of interest, such as: the 19th century Inverness Castle which replaced a medieval castle destroyed by the Jacobites in 1746; Inverness Museum & Art Gallery which focuses on wildlife, geology, weapons and Pictish stones; the 19th century St Andrew's Cathedral; the Eden Court Theatre which includes an art gallery; the Castle Garrison Encounter where visitors can become involved in enacting garrison life during the Jacobean uprising; the Kiltmaker Centre; and the Victorian Market.
There are wildlife cruises to the Moray Firth where you can often observe some of the 100 bottle-nosed dolphins which live in the Firth but more often seals and many species of birds. There are also cruises from Inverness to Urquhart Castle and Loch Ness.
Quick Links to Inverness & Loch Ness Areas
Bridge of Orchy | Drumnadrochit | Fort Augustus | Glen Affric | Invermoriston | Strathglass, Cannich & Beauly