Loch Ness
The area around Loch Ness forms part of the Great Glen which crosses Scotland from Inverness to Fort William. It is surrounded by imposing mountains and the long, spectacular expanse of the loch itself, not to mention the added attraction of the legendary 'monster'! With excellent road connections to the area, it is easy to see why this is one of the most popular of Scottish tourist destinations.
Scotland's Most Famous Loch
Loch Ness is 23 miles long and is renowned for claims of sightings of the Loch Ness monster but none of the more recent scientific explorations of the loch have produced clear evidence of its existence. The A82 travels along the western banks and the B852 runs along the eastern shore to Fort Augustus at its southern tip.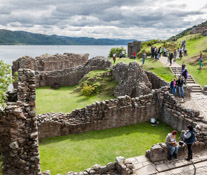 Drumnadrochit lies 15 miles south of Inverness on the western banks of Loch Ness and its economy is centred around the Loch Ness monster myth. There are two exhibition centres providing information about the monster - the Loch Ness 2000 Exhibition Centre and the Original Loch Ness Monster Exhibition. Boat trips down the loch to search for 'Nessie' or for fishing, depart from the village. The imposing ruins of Urquhart Castle stand high on a promontory overlooking the loch where many people have claimed to have sighted the monster.
The village of Cannich lies 12 miles west of Drumnadrochit on the A831 and is the main access to one of Scotland's most beautiful glens, Glen Affric and its surrounding mountains and lochs. Glen Affric National Nature Reserve is home to a wide range of flora and fauna, including wildcat, otter, red squirrel and eagles. There are many varied walks throughout the glen and several Munro mountains (over 1,000 metres) can be accessed from this valley. Invermoriston is a pretty village lying 13 miles south of Drumnadrochit where there are woodland walks to some stunning waterfalls.
On the easter shore the single-track B852, which runs down the eastern shore of Loch Ness, is a peaceful alternative to the busy A82 on the west banks of the loch and passes through Foyers where there are many woodland walks and a majestic waterfall.
Quick Links to Loch Ness Areas