Fort Augustus
A pretty, picturebook village, Fort Augustus has a wonderful situation among the mountains at the southern end of Loch Ness. The village was built around the barracks established in 1715 during the Jacobite Rebellion and was developed further at the time of General Wade's local road-building operations. It is also the site of one of the Hanoverian forts built after the 1745 rebellion to discourage further Highland insurrections.
All Hands on Deck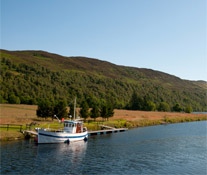 The Great Glen is part of the geological fault line which traverses Scotland from Inverness to Fort William and which is responsible for the existence of Loch Ness, Loch Oich and Loch Lochy, now all linked by Thomas Telford's amazing Caledonian Canal, so that boats can cross Scotland from the North Sea to the Atlantic.
As well as being a great base for touring in all directions, Fort Augustus is bisected by the canal in a series of picturesque locks. Little shops and eating places stretch along the locks, where visitors can sit on the grassy banks or along the towpath and watch the boats passing through as they head off for the Atlantic. The Caledonian Canal Heritage Centre provides information on the history of the canal.