Angus & Dundee
Angus is the rich farmland region north of the Firth of Tay and south of the Highlands that is often unjustly overlooked by people heading north. Its coastline varies from sandy beaches in the south to more rugged cliffs in the northern area around Arbroath. Its major city Dundee has all facilities and has much to offer as a holiday destination.
Angus & Dundee Self Catering Cottages

This just the place for a seaside holiday with lovely beaches, whilst inland are pretty towns like Kirriemuir.

Dundee is the fourth biggest city in Scotland and is also known as being the sunniest city in Scotland.
Inland are magnificent glens and the popular ski resort of Glenshee. Dundee, once the main jute manufacturing town in Scotland and home of the Thomson publishers (of Dandy comic fame) is now a world-renowned centre for biotechnology and cancer research.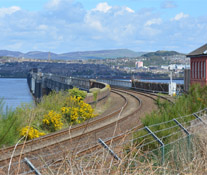 The city has undergone major regeneration and has a number of interesting visitor attractions, particularly suitable for entertaining the family on wet days. From Dundee, there are great views over the Firth of Tay and the rail and road bridges.
The incredibly peaceful Angus Glens are veritable jewels. The five glens spread out like fingers on a hand and are ideal for walking, cycling or just relaxing and taking in the beautiful scenery. There is even a walking festival that is held there every summer.
Quick Links to Angus & Dundee Areas