Kirriemuir
Kirriemuir is an attractive town standing on a hill with cobbled narrow streets and old shops. It is famous as being the birthplace of J M Barrie, author of Peter Pan and what was his house is open to the public. Other places to visit include the Kirriemuir Gateway to the Glens Museum, camera obscura and the nearby Royal Society for the Protection of Birds reserve at Loch of Kinnordy.
A Historical Town
The town has an interesting and unlikely history in that in the 16th century it was quite a centre of accused witches! Some of the older houses to this day have a 'witches stane', a block of grey stone set into the local red sandstone of their walls which was said to ward off witches. Just outside the town is a pond known as the Witch Pool, where some of the accused are said to have met their fate.
On a more prosaic, 21st century level, the town has an excellent golf course, only one of several in the immediate area. 'Kirrie' also stands at the entrance to three of the lovely Angus Glens, Prosen, Clova and Isla, all of which are perfect for walking, cycling and wildlife watching.
The Surrounding Area
The town of Brechin lies 12 miles north east of Kirriemuir and its main attraction is the former cathedral and the round tower built in 1000. Restored steam trains run along the 4 mile Caledonian Railway from Brechin to the Bridge of Dun during the summer.
Pictavia, at the Brechin Castle Centre, provides information and audiovisual displays about the Picts and houses some Pictish stones - the tourist office is sited here.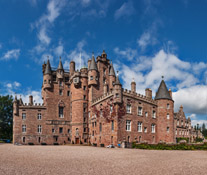 No visit to this part of the world would be complete without a visit to Glamis Castle, just a few miles down the road. This was the birthplace of the late Queen Mother and is a very striking gothic pile, said to be one of Scotland's most beautiful castles and all towers and turrets. It too reputedly has several ghosts – Macbeth of was, of course, Thane of Glamis, so maybe Shakespeare drew on the local tradition of witches and ghosts for his play!
To the north west of the town a short drive brings you to the scenic and peaceful Angus glens, which are surely one of Scotland's best kept secrets. Here you will find quiet, scenic roads flanked by tempting hills. There are even some strategically sited hostelries where you can find refreshment during your walk or cycle tour.