Southern Perthshire
Now incorporated into the administrative area of Perth and Kinross, this much smaller area lies to the west of Fife and to the south of its big brother. It offers an attractive, spacious landscape of gentle hills and rich farmland, with the Ochil Hills to the west and the Lomond Hills (excellent for parapunting and hang gliding) to the east.
No cottages match this search. Try changing or clearing the filters.
The Southern Perthshire Area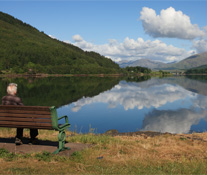 On the edge of the county town Kinross is perhaps the jewel in the crown of the area - Loch Leven, a National Nature Reserve. Well known for its fishing, on an island in its midst is Loch Leven Castle which can be visited by boat. It was here that Mary Queen of Scots was imprisoned on a small island and from which she made her dramatic escape before her fateful flight to England.
For ornithologists and naturalists, the RSPB Vane Farm Reserve on the loch offers the chance to see a wide variety of wetland birds, in particular geese and swans and even on occasion a visiting white tailed eagle.
Exploring Perth Itself
Perthshire's attractive county town Perth was the early capital of Scotland. The town lies beside the M90 and is thus easily accessible from Glasgow and Edinburgh. It is a stately town on the banks of the River Tay with many Georgian houses contrasting with the old buildings in the cobbled town centre. With a hinterland of rich farming land, it became a flourishing market town and textile centre and is currently an important centre for the whisky and insurance industries.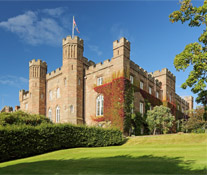 James I's parliament met in Perth as it was the Scottish capital at that time but the king was murdered in the town in 1437. The 15th century St. John's Kirk was where John Knox founded the Reformation leading to the destruction of Scone Palace and other religious sites. The JD Ferguson Gallery has many of this local Scottish Colourist's paintings on display. About a mile west of Perth are Bell's Cherrybank Gardens famous for its heather gardens.
Scone, lying 2 miles north of Perth, was the very first capital of Scotland. The Stone of Destiny was taken to Scone by the first king of Scotland in the 9th century. An abbey was built in Scone where Scottish kings were crowned but it was destroyed by John Knox's followers during the Reformation. The 16th century Scone Palace was built on the site of the abbey and although occupied by the Earl of Mansfield, is open to the public.
The Perthshire Visitor Centre with its 'Macbeth Experience' is in Bankfoot, 8 miles north of Perth on the A9 - not far from Shakespeare's Birnam wood which featured in his famous play.
Quick Links to Southern Perthshire Areas
Comrie | Crieff | Killin | Loch Earn | Perth |St Fillans |Strathearn