Blairgowrie
Situated on the banks of the River Ericht, Blairgowrie lies 11 miles east of Dunkeld on the A923 or can be accessed directly from Perth by taking the A93. Originally the town had an eminent linen weaving industry as the area was a centre for flax growing. Now it is the centre of the Perthshire soft fruit growing industry.
Lots to See and Do
The town is a popular base for golfers and anglers and is the gateway to Glenshee which offers year-round sports but is most famous for its ski centre.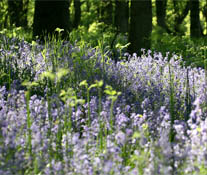 Blairgowrie is an excellent centre for walkers, for instance the short walk to the 1862 steam turbine and water wheel at the Keathbank Jute Mill. It has walks to cater for all levels of experience and is the main starting point for the 5-day, 60-mile Cateran Trail. Also, the Loch of Lowes, a Scottish Wildlife Trust Reserve where you can watch otters and the occasional osprey, is situated nearby.
The tourist office is in Wellmeadow and buses run to Blairgowrie from Perth and Dundee. Hotels include the Angus Hotel and, further north, the Spittal of Glenshee Hotel, both of which serve good food.
The village of Alyth, 5 miles east of Blairgowrie off the A926, is most attractive having old bridges spanning the canal. Worth visiting is the 60-foot waterfall of Reekie Linn which lies north of Alyth of the B954. South of Alyth on the B954 is the village of Meigle which has many interesting 7th to 10th century early Christian and Pictish carved stones displayed in the museum.