Annandale
The A74(M) from Carlisle to Glasgow passes through Annandale whose main towns are Annan, Lockerbie and Moffat. However, the first small town you reach when coming over the Border, is Gretna Green - famous for its wedding ceremonies at the blacksmith's.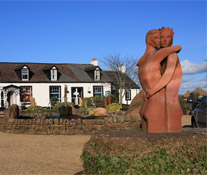 The differences between Scots and English law allowed English couples to elope and marry quickly in Scotland without the need for a licence and for young couples aged 16 to marry without parental consent (the minimum age was 21 in England). About 5,000 weddings still take place here each year. The Old Blacksmith's Shop is a busy tourist attraction and offers a museum, sculpture park, art gallery, tartan shops and restaurant.
The Devil's Porridge (named after the explosive paste made there) in nearby Eastriggs off the A75, houses an exhibition of the munitions factory built there in World War I in which 30,000 people worked and which had its own power station, railway and state-owned pubs. Ecclefechan, 10 miles north of Gretna on the A74(M), was the birthplace of the early 19th century historian, writer and social reformer Thomas Carlyle and his life is depicted in the Thomas Carlyle Birthplace. The main local hotel is the Cressfield Country House Hotel which was designed by Carlyle's father.
Set in rolling hills, the market town of Moffat, on the A701 off the A74(M) about 15 miles further north of Lockerbie, was originally a spa town but is now a centre for the local woollen industry whose history and weaving demonstrations can be viewed at the Moffat Woollen Mill. The Moffat Museum displays the history of the spa town and other local activities include the Moffatasia (a water park) and a range of walks.
Near Lockerbie, Dumfriesshire
Sleeps: 2
Bedrooms: 1
Pets: Yes (2)
Changeover Day:
Sat




More than one promotion available.
Near Gretna, Dumfriesshire
Sleeps: 6
Bedrooms: 3
Pets: Yes (2)
Changeover Day:
Fri




More than one promotion available.