Loyalty Card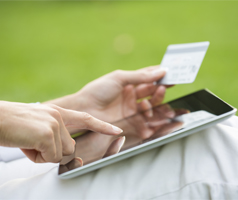 We are very proud of the fact that we have many guests who return to us year after year. We greatly value their loyalty and so, as a practical token of our appreciation, we have introduced our Loyalty Card.
If you have made or taken three holidays with us within an 18 month period (not including short breaks), this one is for you! Just send us your details and a card will be on its way to you.
When you come to book your next week with us all you have to do is quote the unique number on the card and you will be entitled to a special reduction on the rental of the cottage you have chosen.
Terms & Conditions
1. Valid for customers who have booked or taken holidays of three or more weeks in an eighteen month period.

2. The Loyalty Card entitles the cardholder to a discount when he or she books or takes three or more separate holidays of at least one week in any eighteen month period. Please note two consecutive weeks or more booked at the same property will always be considered as one holiday.

3. Loyalty cardholders are eligible for a discount of £15 off a weekly holiday costing up to £300 or less and £25 off a weekly holiday costing £300 or more.

4. The Loyalty Card is issued by and remains the property of Unique Cottages which reserves the right to withdraw the card at any time.

5. Unique Cottages reserves the right to alter or amend the conditions of operation of the scheme at any time without notice.

6. The Loyalty Card may not be used in conjunction with any other special offer.

7. The Loyalty Card is to be used by cardholder only and is not transferable.

8. To qualify for any discounts or offers, the card number must be quoted at the time of booking. Discounts cannot be claimed retrospectively.

9. Unique Cottages reserve the right to take any appropriate action deemed necessary where it is found the cardholder has used the card in breach of these conditions.