Falkland
Falkland in Central Fife was designated as the first conservation village in Scotland back in 1970 due to its royal connections and fascinating architecture. At the heart of the village is the wonderful Falkland Palace that was frequented by Mary Queen of Scots herself who enjoyed playing tennis on what is now the world's oldest tennis court!
Tours of the Renaissance palace are available in order to take in the wonderful furnishings, paintings and tapestries on display. These are led by knowledgeable guides, sometimes dressed in period costumes, who have a wealth of information on the palace's history, restoration and preservation to share. Visitors can also explore for themselves with self-guided tours, not forgetting to take in the extensive gardens that are a joy to wander around.
Plenty to Explore
A visit to Falkland feels like a real step back in time with fascinating architecture to admire amongst the winding lanes of thatched cottages, an impressive church that dates back to 1850 and interesting marriage lintels to spot above some of the house doors.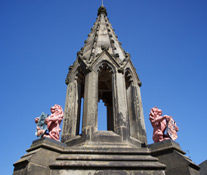 The village became even more widely known in recent years since it was used as one of the filming locations for the popular TV programme Outlander.
Several parts of the village appeared and the local hotel in particular played a big part in the first series as it was used to represent Mrs Baird's bed and breakfast where characters Claire and Frank stayed. The Bruce Fountain in the square also appeared several times and the crew returned for further filming of later episodes as the programme gained more and more popularity.