Lower Largo
What most people know about the East Neuk of Fife is that it is home to some of the finest golf courses in the world - especially Lundin Links, and of course, farther up the coast the famous St Andrews.
However the little fishing towns that line the coast have other interesting connections. One in particular is Lower Largo, a one street village that was the birthplace of the real Robinson Crusoe.
Lower Largo Self Catering Cottages
The Real Robinson Crusoe
The real Robinson Crusoe's name was Alexander Selkirk (sometimes spelt Selcraig), who was born in 1676 in 101 Main Street, a two storey stone house that is marked today by a stone statue of him standing on a plinth staring out to sea.
His father was a respectable tanner and shoemaker but the son was unruly from the beginning and as a young man he was summoned before the church congregation for behaving indecently in church. He got into a fight there with his elder brother and caused outrage both by what he did and what he said.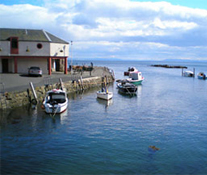 Before sentence could be passed on him however, he ran away to sea and sailed as a privateer, more or less a pirate. It seems he was just as difficult a customer on sea as on land because in 1703 he fell out with the captain of a ship called the Cinque Ports and was put ashore on an uninhabited island in the Juan Fernandez archipelago, 300 miles off the coast of Chile.
When he was abandoned, he was given a musket, gunpowder, carpenter's tools, tobacco, a knife, his clothes and a Bible. With no companions - for there was no Man Friday - he survived for four years before being rescued by another British ship, the Duke, under the captaincy of William Dampier who recognised Selkirk, having sailed with him before.
Amazingly Selkirk then went back to sea and made a lot of money from privateering so when he returned to Lower Largo in 1717 he was dressed in such finery that his family did not recognise him. The call of the sea was too much for him however and quite soon he went back again but died of yellow fever off Africa in 1721, aged only 45.
At some time in his career, Selkirk is thought to have met the author Daniel Defoe who was so taken with his castaway story that he made it into a novel. It was 'Robinson Crusoe' published in 1719 and one of the world's first best sellers.