Luss Cottages
There are five charming cottages on offer here and as they sit on the same site a combination of the cottages can be booked for larger parties who are looking to holiday together but still have their own space and privacy to return to.
Select your dates to check availability for the cottages and filter your search results.
Luss Conservation Village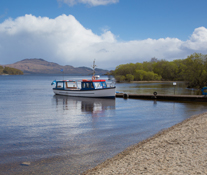 The delightful conservation village of Luss occupies a stunning setting on the western shore of glorious Loch Lomond within the Loch Lomond and the Trossachs National Park. For a small village it is surprisingly well catered for with a great general store, a hotel restaurant to stop at for a drink or a meal and easy access to the West Loch Lomond Cycle Path as well as a range of interesting walking routes.
There are also plenty of munros to tackle within the national park and boat trips depart from the pier within the village itself for further exploration of the stunning loch.