Aberdeenshire
The countryside to the north and west of Aberdeen is often unfairly overlooked as a holiday destination. It is actually full of interest, with attractive and peaceful countryside, castles, stately homes, beautiful gardens, good walking, cycling, fishing, golfing and on its edge some magnificent beaches and fishing villages such as Fraserburgh & Peterhead.
Near The Lecht, Cairngorms National Park
Sleeps: 3
Bedrooms: 2
Pets: Yes (2)
Changeover Day:
Sat



Near Braemar, Royal Deeside
Sleeps: 4
Bedrooms: 2
Pets: Yes (2)
Changeover Day:
Fri



Near Alford, Aberdeenshire
Sleeps: 2
Bedrooms: 1
Pets: Yes (2)
Changeover Day:
Sat






Save 15% May Half Term 2019
Near Huntly, Aberdeenshire
Sleeps: 10
Bedrooms: 5
Pets: Yes (2)
Changeover Day:
Sat





Save 15% May Half Term 2019
Sleeps: 4/8
Bedrooms: 4
Pets: Yes (2)
Changeover Day:
Sat



Near Strathdon, Cairngorms National Park
Sleeps: 4
Bedrooms: 2
Pets: No
Changeover Day:
Sat



Strichen, near Fraserburgh
Sleeps: 2
Bedrooms: 1
Pets: Yes (2)
Changeover Day:
Sun




Save 15% May Half Term 2019
Sleeps: 2/6
Bedrooms: 3
Pets: Yes (2)
Changeover Day:
Sat





Save 15% May Half Term 2019
Sleeps: 4
Bedrooms: 2
Pets: Yes (3)
Changeover Day:
Sat




The City of Aberdeen
Aberdeen lies about 70 miles north east of Dundee on the A90 and developed as a busy trading and fishing port. Its fortunes increased with the advent of the North Sea gas and oil industries in the 1970s and it is now a prosperous city. It is known as the 'granite city' due to its grey buildings that are brightened by its many colourful public gardens and parks, the largest being Duthie Park with its rose and winter gardens. When the sun shines visitors can enjoy the magnificent sandy beaches, extensive areas of sand dunes and fine golf courses.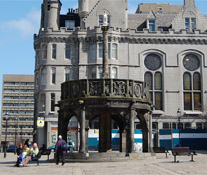 Castlegate, the oldest part of the city centre, is located at the eastern end of the mile long Union Street and there are several nearby attractions such as the Mercat Cross, the Town House and 17th century Tolbooth. The 16th century Provost Skene's House (in Broad Street, off Union Street) houses a museum depicting life in the 17th to 19th centuries and a magnificent 17th century painted ceiling.
Nearby is Marischal College which was founded in the 16th century and merged with the 15th century King's College in 1860 to create Aberdeen University. The Marischal Museum, within the college, has many interesting displays which have been donated by graduates over the centuries and Victorian anthropologists. The Aberdeen Art Gallery in Schoolhill has an extensive collection of contemporary, 18th century, Victorian, Impressionist and Modernist paintings.
Satrosphere, an interactive science centre is located in Constitution Street. Shiprow is an old cobbled street leading from Castlegate to the harbour and is where the Maritime Museum and the Old Provost Ross's House are located. These house a 27-foot model of an oil rig and other ships, and depict the history of the fishing, whaling, shipbuilding and oil and gas industries. The busy fish market near the harbour operates from dawn to 8am. At the eastern end of the harbour is the quaint fishermen's village of Footdee (known as Fittie). Nearby is the two-mile Aberdeen beach and esplanade where there is an amusement park and leisure centre.
Inland from the beach, about a mile north of the city centre, is Old Aberdeen - an area of cobbled streets and alleys where Aberdeen's first university, King's College, was established in 1495. The visitor centre provides details of the history of the college. King's College Chapel has an interesting medieval carved screen, pulpit and stalls and is where Bishop Elphinstone is buried. Nearby is the 15th century St. Machar's Cathedral (which has a magnificent heraldic ceiling), the Cruickshank Botanic Gardens and the 13th century Brig o'Balgownie over the River Don. On the south bank is a bird-watching hide.
Northern Aberdeenshire
This part of Aberdeenshire consists of fertile agricultural plains and a mainly sandy coastline with many fishing villages. There are a couple of attractions inland, such as the 18th century Haddo House designed by William Adam, near Ellon, and the haunted Scottish baronial Fyvie Castle south of Turriff.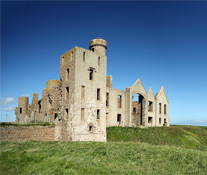 On the east coast, lies Forvie National Nature Reserve (off the A975, 15 miles north of Aberdeen) where a wide variety of bird species can be viewed amongst the extensive dunes. Eight miles north are the sandy Bay of Cruden with its ruined Slains Castle and the 245-foot deep sea chasm Bullers of Buchan.
Elgin is a market town which has a ruined 13th century cathedral and old museum with the 13th century Pluscarden Abbey 7 miles south-west of the town. Lossiemouth is a seaside resort with sandy beaches, 5 miles north of Elgin with the imposing Spynie Palace nearby which has terrific views from David's Tower, the largest in Scotland. Findhorn, on the coast west of Lossiemouth, is the location of the Findhorn Foundation, an international spiritual community which offers retreats and a wide range of courses.
17 miles south of Elgin is Dufftown around which are located seven whisky distilleries and the Glenfiddich Distillery Visitor Centre is in the north of the town. East of Dufftown is Huntly and the 16th century Huntly Castle, former home of the Gordon clan.