Crovie
Crovie, a tiny one time fishing village on Banffshire's coast, is a genuine car free zone because the only path leading to the cottages is too narrow to allow motor vehicle passage. Cars have to be left at the north end of the village or in a specially built car park on top of the cliff that overhangs the village.
Sleeps: 2
Bedrooms: 1
Pets: Yes (1)
Changeover Day:
Sat





Last Minute - w/c 9 Dec 23
Sleeps: 2/4
Bedrooms: 2
Pets: Yes (1)
Changeover Day:
Sat





Last Minute - w/c 9 Dec 23
Sleeps: 4
Bedrooms: 2
Pets: Yes (2)
Changeover Day:
Sat





Last Minute - w/c 9 Dec 23
Battling the Elements
Crovie owes its existence to its people's determination not to yield to the elements or to bureaucracy. The village is very much at the mercy of the weather and a stormy day at Crovie, with the waves breaking over the cottage roofs, is an experience never to be forgotten.
People staying in any of the cottages that are strung out along Gamrie Bay facing the sea have to wheel their suitcases and shopping along the narrow path in one of the wheelbarrows which form part of the essential furnishings of every household. Truly a unique holiday experience!
On a particularly ferocious storm in 1953 the village was almost swept away. Some of the inhabitants moved to nearby Gardenstown and never returned, but a nucleus of 80 determined people sat tight and repaired the least damaged cottages. They were then faced with a government order condemning their village and ordering its total demolition.
The villagers formed the Crovie Preservation Society and eventually won a reprieve for their homes, which at that time depended heavily on fishing. When that trade too died, Crovie still hung on and today it is a holiday resort, as well as being home to several artists (some of whom live there all the year round, braving the winter winds as well as enjoying balmy summers).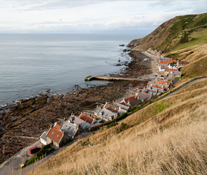 Located 40 miles north of Aberdeen, on the Banffshire coast a mile long walk from Gardenstown, Crovie's history dates back to the 13th century but it did not become a real community till the late 18th century when local landowners' policy of throwing people off their lands to make way for sheep, sent people down to the coast from inland. They began fishing in small boats and the village's population grew from 100 in 1791 to 300 in 1900. At its peak, the local fishing fleet numbered 50 boats.
After the 1953 storm, some local families still hung on and they were joined by people from outside buying the traditional stone cottages - sometimes for as little as £40 each! Today the cottages are sought after by holiday makers who delight in Crovie's old fashioned way of life, its wonderful sea views and especially the magnificent sunsets.