Fordyce
Coming over the hill to the conservation village of Fordyce, a short distance inland between Cullen and Portsoy on the Banffshire coast, you see nestling in the valley what must be one of the most picturesque and charming hamlets in all of Scotland.
Dating from medieval times, the perfectly preserved houses cluster round its 13th century church and 16th century castle - a fairytale village indeed!
Fordyce Self Catering Cottages
No cottages match this search. Try changing or clearing the filters.
A Historical Village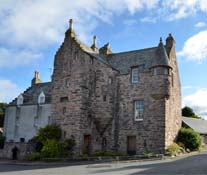 Here the traditional stone cottages with their abundant cottage gardens are still arranged along little lanes just as they would have been in medieval times. The imposing castle, built in 1592 by Thomas Menzies, the sometime provost (mayor) of Aberdeen sits quite unpretentiously on a bend in one of these tiny streets and is still a private home to this day.
Menzies also founded a school here, one of four which were operating in the village by the late 19th century. One, Fordyce Academy, achieved such high standards that it became known as the 'Eton of the North'. It only closed in 1964 and part of it still operates as the local primary school. Other attractions in this peaceful village are the Joinery Workshop and Visitor Centre, the Kirk and churchyard and a Victorian garden. There is also a footpath from the village that leads the mile along to the sea.