Speyside
Stretching from the magnificent Moray Coast line with its rugged cliffs, sheltered coves, quaint fishing harbours and sweeping stretches of sandy beach to the edge of the Cairngorm National Park, Speyside is a region well known for a variety of reasons...
Not only is it an area of stunning scenery ideal for all manner of outdoor activities, it has a rich and interesting history and is home to the only Malt Whisky Trail in the world.
A Rightly Famous Area
The name will also strike a strong chord with fishermen, for the Spey is one of the great salmon rivers of Scotland. If you can't afford a beat on this queen of salmon rivers, you can go for brown or sea trout, while tributaries such as the Avon (A'an), Livet, Aberlour, Rinnes and Fiddich also provide great sport, their names reminding you of the refreshment to be enjoyed after your day's activities!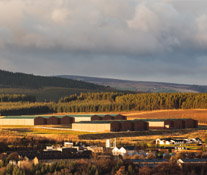 For walkers, the Speyside way, which runs between Spey Bay near Buckie on the Moray coast and Aviemore in the Cairngorms, is one of Scotland's four great walking trails and is an amazing means of seeing some of the country's most spectacular countryside. Some parts may also be covered on cycle or on horseback.
The area is particularly rich in wildlife, being home to deer, ptarmigan, capercaillie, and even the elusive wildcat, while in the sky are buzzards and eagles as well as many smaller birds. Boat of Garten near Aviemore is where osprey first returned to the UK in the 1950s having died out here in the 19th century. They have bred successfully here ever since and now hunt all along the river Spey. Visitors can view them on camera at the RSPB Osprey Centre.