The Black Isle
The Black Isle, just north of Inverness, is not actually an Isle at all, but a peninsula between the Moray and Cromarty Firths. It is a lovely area that is famous for bird watching (at Munlochy Bay) and dolphin watching (at Chanonry Point).
Lots to See and Do
The Black Isle is a wildlife lovers' paradise. The Moray Firth is the home-ground of about 100 bottle-nosed dolphins and many seals and there is a dolphin and seal centre just over the Kessock Bridge. For bird lovers there is also a RSPB observation area for red kites.
The Clootie Well near Munlochy on the A832 is where rags are hung from the branches of a tree to bring good luck and health. Avoch and Rosemarkie are picturesque villages and Pictish stones are displayed in Rosemarkie's Groam House Museum.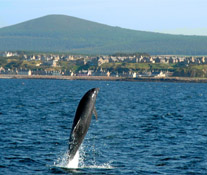 Chanonry Point at Fortrose is the best viewing point for observing the bottle-nosed dolphins and seals in the Moray Firth. Cromarty, at the northern tip of the Black Isle, is a most attractive small town with old fishermen's cottages and large Georgian houses. The town has a museum, an old Courthouse, an art gallery and the old church featured in the TV series Restoration Village. There is also an excellent microbrewery producing a range of beers and you can take boat trips out to observe the dolphins, seals and birds.
Strathpeffer, west of the Black Isle about 5 miles west of Dingwall on the A834, developed as a spa town in Victorian times and 'the waters' can still be sampled at the restored Pump Room. The restored Victorian train station houses craft shops and the Highland Museum of Childhood.
Quick Links to Black Isle Areas