Sutherland
Sutherland, in the far north of Scotland is a beautiful land of mountains, wild rocky coasts and white sandy beaches. From here, you can head north to John O'Groats (allowing day trips to Orkney) or north west to Cape Wrath on the very tip of mainland Scotland.
A Wild but Beautiful Landscape
Sutherland stretches to the west coast, right up to Cape Wrath and offers some of the most dramatic scenery in Europe. Wild and untamed, with wonderful mountains such as Ben Hope (the most northerly Munro), Stac Pollaidh and the Coigach, it is small wonder that this is a favourite spot with walkers and climbers. Where the mountains meet the sea there are impressive cliffs and also some lovely beaches along the north coast.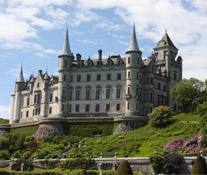 Loch Fleet, about 5 miles north of Dornoch, is a tidal estuary where there is a nature reserve. Golspie, a few miles further north, has a swimming pool, a championship golf course and a sandy beach. Its main attraction is the many turreted Dunrobin Castle which is the seat of the Sutherland clan who were mainly responsible for the Highland Clearances. It was originally built in the 13th century but much of the current house is 18th century with an obvious French influence. There is also a museum in the summer house within the extensive formal gardens.
You can visit the distilleries at Tain and Brora and sample the local brew. A few miles south of Brora is the Iron Age broch of Carn Liath. The fishing village of Helmsdale, 5 miles north of Brora, provides access to excellent salmon fishing on the River Helmsdale. The village's Timespan Heritage Centre depicts the local history including Viking raids, the Clearances and gold prospecting - you can even pan for gold at Kildonan.
Just north of Dunbeath (which has its own heritage centre) are the interesting Laidhay Croft Museum and the Clan Gunn Heritage Centre & Museum. The Waterlines Visitor Centre in Lybster, a purpose-built 19th century fishing village, focuses on the local fishing industry and has CCTV of birds nesting in the nearby cliffs. There several sites of ancient standing stones nearby including the Grey Cairns of Camister dating from 4000 BC, the Achavanich Standing Stones and the Hill o'Many Stanes - forming 22 rows of stones dating from 2000 BC.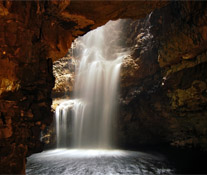 The nearest settlement to Scotland's northwest corner is Durness, with two hotels, shops, an excellent beach and even a golf course. In the surrounding area are the remains of Pictish farming settlements dating back some 2,000 years, but perhaps the biggest attraction here, apart from Cape Wrath itself, is the Smoo Cave. This spectacular sea cave can be reached by boat or by the path down the cliffs, and evidence has been found that humans were in occupation here at least 5,000 years ago!