Coldstream
Coldstream (9 miles east of Kelso) is a small town on the River Tweed and Smeaton's Bridge marks the boundary with England. The history of the Coldstream Guards, formed in 1650 as part of Cromwell's New Model Army to fight the Scottish Presbyterians, is displayed in the museum in Market Square. A few miles south of Coldstream on the A697 near Branxton, is the site of the Battle of Flodden fought in 1513 in which the Scottish army led by James IV was overwhelmingly defeated by the English in an attempt by the Scottish to revenge Henry VIII's invasion of France.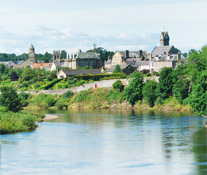 There are a number of walks, including the Nun's Walk with views to the Tweed and the Cheviot Hills and many within the Hirsel Country Park which provide a magnificent display of a wide variety of rhododendrons in early summer. Hirsel House is the home of the Douglas-Home family but is not open to the public. However, the courtyard hosts a homestead museum, an arts & crafts centre and café, and there is a golf course nearby.
The Tourist Information Centre is in the High Street. The library in the Gateway Centre is open for restricted hours Monday to Friday. The main eating places are the Besom Inn on the High Street, which has interesting memorabilia, the Newcastle Arms Hotel and the Castle Hotel and six miles north on the A6112 is the famous Wheatsheaf in Swinton, winner of many awards.
Coldstream Self Catering Cottages
Near Coldstream, Berwickshire
Sleeps: 2
Bedrooms: 1
Pets: No
Changeover Day:
Sat




Last Minute - w/c 9 Dec 23
Sleeps: 2/6
Bedrooms: 4
Pets: Yes (3)
Changeover Day:
Sat




Sleeps: 2/6
Bedrooms: 3
Pets: Yes (3)
Changeover Day:
Sat





Last Minute - w/c 9 Dec 23