St Abbs, Coldingham & Eyemouth
The Berwickshire coast has a bewitching mix of scenery - there are the dramatic cliffs at St Abbs and the National Trust seabird sanctuary, the lovely sandy beach at Coldingham and the historic fishing town of Eyemouth centred around its bustling harbour. With so much variety and activities for all seasons, it is scarcely surprising that it is such a popular holiday destination.
St Abbs Village
St Abbs is an attractive small fishing village on a rugged part of the east coast, north of Berwick-upon-Tweed. The harbour nestles in the lee of steep cliffs north of Coldingham Bay and offers a wide range of activities for visitors, such as sea-angling, sub-aqua diving, bird-watching and boat trips.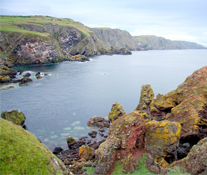 The water around St. Abbs is part of the St Abbs & Eyemouth Voluntary Marine Reserve which offers exceptional diving conditions with visibility between seven and 24 metres and is home to grey seals, porpoises and other marine life. There is a Dive Centre in St Abbs and a Dive Shop at Coldingham Sands which provide advice and sell/rent equipment.
The area attracts many birdwatchers and walkers to the St Abb's Head National Nature Reserve that is managed by the National Trust for Scotland and is home to many guillemots, kittiwakes, herring gulls, fulmars, razorbills and puffins. The reserve also includes roughly 200 acres of grasslands rich with flowers and a freshwater loch with pretty walks that lead around it all.
A Charming Seaside Village
Coldingham, situated on the coast, is a historic conservation village with an award-winning sandy beach that is popular with families and surfers.
The village centres round its crossroads and has a couple of pubs and small shops, including a small supermarket. There are also the ruins of ancient the Coldingham Priory to visit. From the village, a small road leads across the fields to end at the beach where there is ample parking. The beach is a delight for children, with golden sands and plenty of rock pools to explore, for the bay is situated within the St Abbs and Eyemouth Voluntary Marine Reserve.
Naturalists may be interested to learn that on Homeli Knowe at the southern end of the beach, there have been sightings of the rare small blue butterfly. On the north side of the beach, The Kip is an 8 metre high sea stack which is on dry land at low tide. With Berwick to the south, Dunbar to the north, and plenty of interesting coastline in between, Coldingham is much more than just a place for a simple beach holiday.
A Bustling Fishing Port
The fishing village of Eyemouth is south of St. Abbs on the A1107 and about 8 miles north of Berwick-upon-Tweed. This fishing port remains one of the busiest in Scotland with around 80 boats regularly fishing out of it and a bustling early morning trade at the fish market. Other attractions include its museum, Gunsgreen House built in 1753 by a local smuggler and its golf course which has the most extraordinary hole in Britain.
The town plays host to 3 fishing events: the Herring Queen Festival in July; the Seafood Festival during one weekend in June and the Lifeboat Gala in August. It also has a sandy beach where rock pools are revealed at low tide.
There are a number of local walks, the most scenic being the 4-mile walk along the clifftops to Burnmouth. The Eyemouth Museum provides information about its fishing history including the storm in 1881 which destroyed the fishing fleet killing 129 local fishermen.
Gunsgreen House is another example of Adam architecture and was previously used by smugglers with escape tunnels to the town. It is now the clubhouse for the Eyemouth golf course. Eyemouth Diving Centre rents equipment and boats, and provides diving tuition and there is a swimming pool in Eyemouth Leisure Centre.
8 miles south of Eyemouth and west of Berwick-upon-Tweed is Paxton House set in 32 hectares of parkland, woodland and gardens (designed by Capability Brown) with a salmon fishing museum. It was designed by the Adam family and is considered to be one of the finest 18th century Palladian houses in Britain, with a fine collection of Chippendale and regency furniture, and Picture Gallery where the National Gallery of Scotland displays some of its collection.