Innerleithen
The village of Innerleithen lies among the Border hills to the east of Peebles in the central Scottish Borders, 12 miles west of Galashiels on the A72 on the banks of the River Tweed. The town developed as a mill town in the 18th century and it was also a spa centre at one time. You can still sample the waters at St. Ronan's Wells and view the old pump room.
Plenty of Places to Explore
The village is ideally situated for touring in all directions and for enjoying many of the major attractions which the area has to offer, including its annual music festival that is held every August.
The main attraction in the Innerleithen area is Traquair House, first built before 1100 and the oldest continuously inhabited house in Scotland - the current owners, the Maxwell Stuarts, have lived there since 1491. It has lots to interest the visitor - sloping floors, a secret room where priests performed Mass and hid until the Catholic Emancipation Act of 1829, vaulted cellars where cattle were hidden from raiders and many historical relics including those of the Jacobites and Mary Queen of Scots.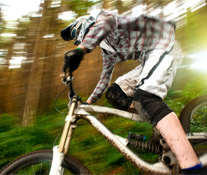 There are lots of walks in the grounds and gardens, including a hedge maze. There is also an art gallery and café. The Traquair House Brewery, first established in 1566, continues to ferment the ale totally in oak and its produce can be purchased in the shop. Traquair House hosts the Scottish Beer Festival in May and the Tarquair Fair in August.
Robert Smail's Printing Works is a working museum where visitors can have a go at the 19th century typesetting machines.
More recently Innerleithen has become known as a mecca for mountain bike enthusiasts, with the downhill route attracting cyclists from all across the UK.