Peebles
Peebles is a most attractive town on the banks of the River Tweed situated in a magnificent setting surrounded by wooded rolling hills, about 18 miles west of Galashiels. The wide expanse of river with its parks, playgrounds and riverside walks make this a delightful area to visit and it is also only a short drive away from the beautiful capital Edinburgh.
Plenty to See and Do
The town has a variety of interesting shops, pubs, restaurants and hotels (including Peebles Hydro, the Park Hotel, Cross Keys Hotel, Cringletie House - a mansion 2 miles north of Peebles, Castle Venlaw Hotel, Tontine Hotel and the Macdonald Hotel at Cardrona, the exclusive purpose-built golfing village located a few miles east of Peebles on the B7062).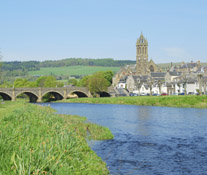 The Old Parish Church features an oak/bronze/engraved glass screen, Napoleonic flags and oil paintings of the Scriptures. The Tweeddale Museum and Gallery provides displays and information about Sir Walter Scot and other famous Borderers, a Victorian museum and hosts sculpted friezes of a copy of the Elgin Marbles taken from the Greek Parthenon and the Triumph of Alexander created in 1812 to honour Napoleon.
Regular buses run to Edinburgh (just over an hour), Galashiels (about 45 minutes) and other Border towns - from the Post Office on the High Street. The journey to Edinburgh takes about 40 minutes by car.
A visit to Kailzie Gardens (open all year) provides an interesting day out for all the family. It is situated just over 2 miles out of Peebles and offers woodland walks, a walled garden, fishing, playground, restaurant and picnic areas (it is popular for Sunday lunches and advanced booking is recommended).
Activities to Get Stuck Into
A mile-long walk to the 14th century Neidpath Castle is worth the effort. This medieval tower house is open during the summer and bank holiday weekends and includes a pit prison and information about Mary Queen of Scots. The more adventurous can continue on the circular Sware Trail which leads back to Peebles (about 5 miles in total).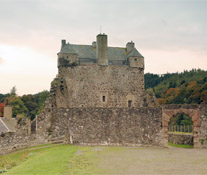 Longer, more strenuous, walks take you to St. Mary's Loch (13 miles) where there is swimming, sailing and a café, and about 6 miles south, a steep climb on a narrow track beside the 200-foot Grey Mare's Tail (a waterfall). You can also walk to Selkirk (14 miles) past Traquair House.
Peebles is also a good centre for cyclists, either for those following the 90-mile long Tweed Cycleway or those seeking a range of mountain bike trails at Glentress Forest, 2 miles east of Peebles. Glentress has trails of all degrees of difficulty and is suitable for both beginners/children and those entering international standard competitions. Bikes and equipment can be hired there or you can take your own. Access to live osprey CCTV viewing is also available in season at Glentress and there is a swimming pool in the leisure centre.
Tweeddale
Tweeddale is the area between Peebles and the source of the River Tweed. Dawyck Botanic Gardens (open late February to November) is a world renowned arboretum with magnificent specimen trees from around the world providing sheltered walks and stunning scenery.
Following the Tweed further south you reach Tweedsmuir where there are glass-blowing displays at the craft centre. From there, there is an attractive drive past the Talla and Megget reservoirs to reach St. Mary's Loch.