Elliston Estate
Near Melrose, Scottish Borders
The Elliston Estate is a family run estate that has been under the same family ownership for many hundreds of years. Having recently joined our portfolio it now offers three warm and inviting holiday homes that gives guests the chance to truly experience the relaxed pace of country living.
The original family home was a peel tower back in the 1200's and sadly had to stop being used in the 1950s as it was not up to modern living standards. The ruin of the house can be still be seen on the estate to this day in its lovely position looking out over the pretty loch. It is fascinating to picture it how it would have looked in its former glory.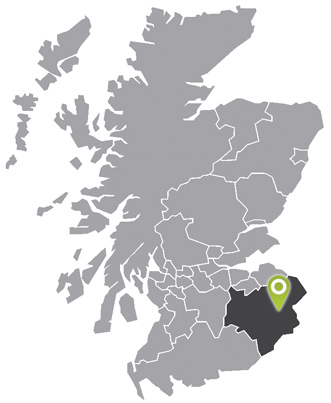 Activities to Try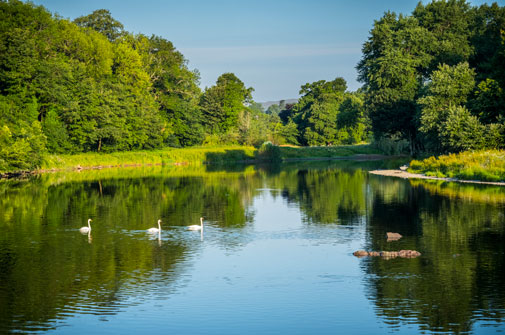 Activities in the Local Area
The beautiful River Tweed is known for its incredible fishing, in particular salmon fishing, with the season running from the start of February to the end of November each year. It is the second longest river in Scotland and there are an array of great beats dotted along its length.
The Bemersyde beat is particularly picturesque, stretching a mile along with plenty of double bank fishing. It is a truly idyllic, sheltered spot to try for salmon and sea trout and has boats and an excellent fishing hut with a BBQ available.
If clay pigeon shooting takes the fancy then the Bisley at Braidwood Shooting Ground in nearby Midlem is well worth a visit. As well as the usual clay pigeon shooting they also offer lessons, air rifle shooting and the chance to try their virtual reality shooting simulator with hundreds of different scenes to choose from.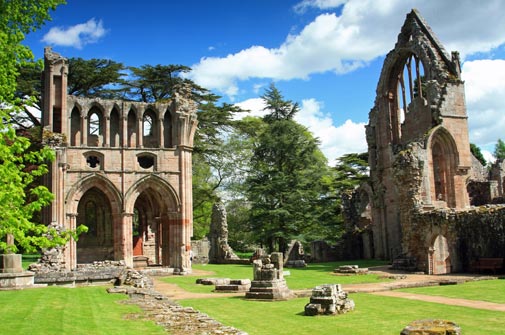 Take in the Many Local Historical Sights
As the Scottish Borders has such a rich and varied past, those interested in history and architecture will find plenty to keep them amused. With ancient castles and peel towers dotted around, some impressive stately homes to tour and four 12th century Abbeys to visit, they are literally spoilt for choice.
Dryburgh Abbey, in easy reach, is one of these fine Abbeys and it is free of charge to walk around its imposing ruins. It occupies a gorgeous setting near the banks of the River Tweed and is a haven for the wildlife that now call it home.
Floors Castle, a short drive away just outside Kelso, is the largest inhabited house in Scotland. It dates all the way back to the 1700s and is open to the public to explore its beautiful gardens and two cafés. Whilst in the charming market town of Kelso there are a good range of independent little shops to wander around, as well as a good choice of different eateries.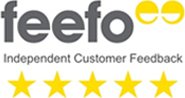 'We have booked several holidays with Unique Cottages and have always found it an easy and professional process. Easy to book and prompt responses.'

'Another lovely property we discovered thanks to Unique Cottages. We spent so many lovely holidays in Scotland and will using them again and again.'

'We have used Unique Cottages on numerous occasions now. Their website is excellent and have found that descriptions and photographs are true to life.'

'We have booked through Unique cottages on numerous occasions now and always found their service to be really efficient.'