Hawick
Hawick is situated on the A7 by the banks of the River Teviot. It is the largest town in the Borders and still remains a centre for the production of quality knitwear. Companies such as Pringle, Lyle & Scott and Peter Scott are based here. The Hawick Cashmere Visitor Centre and some other mills provide tours where you can view the mills at work.
Exploring Roxburghshire's Former County Town
There are plenty of visitor attractions in Hawick, such as Drumlanrig Tower Visitor Centre which charts the cross-border warfare from the 16th century and local history. The Hawick Museum & Scott Art Gallery has displays of 19th century manufacturing and domestic memorabilia and hosts visiting art exhibitions.
The main local event is the Common Riding in June when a large number of Borderers on horseback commemorate the Hawick Callants' victory over the English in 1514.
There is a swimming pool at the Teviotdale Leisure Centre. The Tourist Information Centre is within Drumlanrig Tower. The library is open each day and until 12.30pm on Saturdays. Regular buses run to Selkirk, Galashiels (connecting to Edinburgh), Melrose and other Border towns.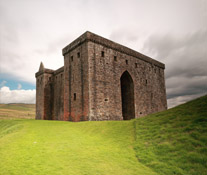 Liddesdale
Liddesdale is the area south of Hawick around the B6357 (off the A6088 after Bonchester Bridge). Hermitage Castle on the nearby B6399 dates from the 13th century and was the home of the Earl of Bothwell whom Mary Queen of Scots visited in 1566 after he had been wounded in battle. It is renowned for its torture of prisoners and is said to be haunted.
Newcastleton is known for its Folk Festival in July each year and there are varied walks through the Forestry Commission Newcastleton Forest. The Liddesdale Heritage Centre houses a large collection of historical artefacts and facilities for family research.