Glasgow
It may come as a surprise to learn that many prefer Glasgow to Edinburgh as a holiday destination! The city's architectural riches are a real revelation, as are its wonderful green spaces and vibrant cultural life. You will also find the amazing Burrell Collection, one of the largest private art collections in Europe amassed by one of the city's rags-to-riches ship-owner magnates.
A Vibrant, Cultural City
Glasgow, a former shipbuilding seaport, has an abundance of activities and attractions on offer. The city's architecture includes many outstanding buildings by famous architects such as Alexander 'Greek' Thomson (late 19th century) and Charles Rennie Mackintosh (early 20th century). The gothic tower of the University can be seen from far and wide, while the Kelvinhall Museum rivals anything in London and is no less imposing for having been built back to front!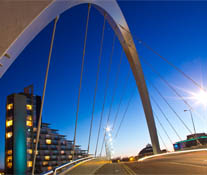 The city gained the title of the City of Culture in 1990 and boasts a magnificent Concert Hall, many famous museums and art galleries, lots of places of historical interest and an abundance of theatres, restaurants, pubs, clubs and has a lively music community. Also, you can shop till you drop here - from a wide range of designer shops to the 'Barras', an open-air market at the east end of the centre.
Glasgow also serves as a convenient base for day trips to the mountains and islands to the north and west and to the beaches and attractions in Ayrshire to the south west. Edinburgh, the more genteel capital of Scotland which has a different heritage, is only an hour away by car or train. It really has it all and perhaps the friendliest urban population in Britain to boot!