Dunbar and Belhaven
The historic seaside town of Dunbar is situated to the east of Edinburgh on the south east coast of Scotland. As well as the usual seaside town amenities, Dunbar's other attractions include a museum and gallery, large leisure pool, the John Muir's Birthplace Centre and a traditional music festival usually held in the last week in September.
Set right on the coast is the pretty village of Belhaven where there is a wonderful beach that is about a mile long but seems to go on forever with amazing views of the Firth of Forth and even the Bass Rock and Isle of May off in the distance out in the water.
So Much to See and Do
Dunbar is an ideal base if you are interested in golf as it is situated in Scotland's 'Golf Coast'. Dunbar itself has two courses to choose from (one of championship standard) and there are courses in nearby North Berwick, Gullane, Muirfield and Musselburgh. The town and surrounding area are excellent for walking and rambling, with many different routes to explore.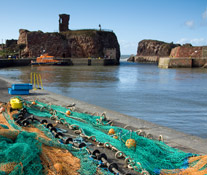 The John Muir Way long distance walking route runs from Helensburgh on the west coast and stretches all the way over to Dunbar, covering 134 miles in total. Part of the route runs from Dunbar up to North Berwick and is only 15 miles with an easy train ride back that only takes about an hour. It is also less than half an hour on the train from Dunbar right into the centre of Edinburgh so it is ideal for a day trip into the capital.
The Village of Belhaven
Hours can be spent exploring the wonderful beach at Belhaven which is particularly popular with surfers due to its impressive waves and lessons and equipment hire are available for those who fancy taking to the water.
Belhaven is home to the Belhaven Brewery that was established back in 1719 and produces the well known Belhaven beer. Tours of the brewery are available with very knowledgeable guides and the chance to sample some of their wares at the end.
For those that can bear to tear themselves away from the beach, boat trips run from North Berwick (just over 20 minutes' drive from Belhaven) out to the imposing Bass Rock. In the late 1600s the island was home to a prison but in more recent years it has been taken over and is now home to hundreds of thousands of gannets.