Isle of Tiree
The Isle of Tiree is the most westerly of the Inner Hebrides and is located, alongside its neighbouring island of Coll, to the west of Mull in the Atlantic ocean. Tiree is known for its magnificent, long white sandy beaches and has 46 miles of coastline in total.
The island's position means that the climate is influenced by the warm Gulf stream and as a result it enjoys amongst the highest number of hours of sunshine in the UK. The majority of visitors travel to Tiree by ferry from Oban on the mainland, arriving into the island's 'capital' settlement Scarinish. You can also fly across from either Oban or Glasgow (car hire available).
Sleeps: 7
Bedrooms: 4
Pets: Yes (2)
Changeover Day:
Sun




Beautiful Scenery to Explore
Tiree is only 10 miles long and about 3 miles wide with single track roads and quite a flat landscape so it is ideal for exploring on foot or by bike. Along the way you may see some of the traditional 'blacktop' houses or the unusual 'spotty' houses where the render is painted white and the stone is left natural.
The island's unique microclimate sees large parts of the island being covered in machair, a habitat that is home to many rare plants that attract a wide range of birdlife including peewits, skylarks, corncrakes and snipes.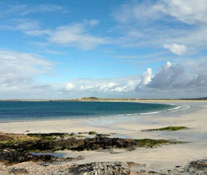 The island is a mecca for watersports and every October it plays host to Tiree Wave Classic, a well known windsurfing competition that draws crowds and spectators from all over the UK.
The remains of the Iron Age Dun Mor Broch can be found to the north of the island near Vaul and there is a walking route that leads from there to the mysterious Ringing Stone with its cup-marked indentations, that emits a bell-like sound when struck.
Ben Hynish (141 metres) is the highest point on the island and is the site of the Carnan Mor Radar Station. This golf ball-shaped station provides radar coverage of the Atlantic and can be seen from all parts of the island. There is a lovely walk up to the station where there are magnificent views out across the whole island.
The Isle of Coll
Coll lies to the north east of Tiree and is quite sparsely inhabited with a population of only around 200. It too has some beautiful sandy beaches and off its shores you may well spot basking sharks and even Minke whales.
The island has some of the darkest skies in Europe due to its small population and the fact that there is no street lighting. It offers ideal conditions for star gazing and astronomy and has even been designated as a dark sky reserve.