Knoydart
Many people regard the Knoydart Peninsula as Britain's most dramatic and unspoilt wilderness area. Flanked by Loch Nevis (the 'Loch of Heaven') in the south and the fjord-like inlet of Loch Hourn (the 'Loch of Hell') to the north, Knoydart's peaks (three of which are Munros) sweep straight out of the sea.
A real 'get away from it all' holiday
At the end of the eighteenth century, around a thousand people eked out a living from this terrain through crofting and fishing. These days the peninsula supports around 70 people, most of whom live in the hamlet of Inverie. Nestled beside a sheltered bay on the south side of the peninsula it has a pint-sized post office, a shop and mainland Britain's most remote pub, the Old Forge.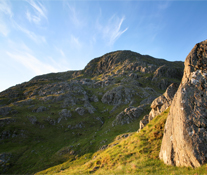 You get to the Knoydart peninsula by boat from Mallaig (parking near the quay), where you are advised to stock up on the bulk of your provisions for your stay.
The peninsula is cut off from the world - there are no roads and there is no TV or mobile reception. If you are looking to 'get away from it all', this is the place to come. One of the many joys of Knoydart is that you can forget about getting behind the wheel of a car during your visit. Instead you can totally relax and recharge your batteries.
The wild, unspoilt scenery in the area is quite breathtaking. The few visitors here are walkers or climbers, attracted by the stunning views from the summit of Ladhar Bheinn. You can walk for hours without seeing another soul. Ranger led walks are also available locally or you can scale some of the surrounding peaks.
Look out for the red deer on the hills, the eagles in the skies and the Highland cattle and ponies. Stalking can normally be arranged between September and February and fishing can be arranged on the Sea Pool on the Inverie River.
Back across Loch Nevis at Mallaig there is a heritage centre and a marine centre. You can also take ferries out to the Isle of Skye and the 'small islands' Eigg and Rum. Various boat trips can also be organised locally.