Drimnin Estate
Near Lochaline, Argyll
The Drimnin Estate occupies 7,000 acres of the Morvern peninsula. Seen as one of Scotland's best-kept secrets, Morvern slices out into the Atlantic and connects to the mainland at Glen Tarbert.
A combination of ancient woodlands, heathered moorland and lush pastures, Drimnin provides a natural sanctuary for a breathtaking array of local wildlife. While deer graze on the open hillsides, otters play along the shoreline and pine martens and wildcats hide among the trees. Guests can relax, hike or cycle to take in the wonders of this beautiful location. Fishing, stalking and whisky tasting are all also available on-site.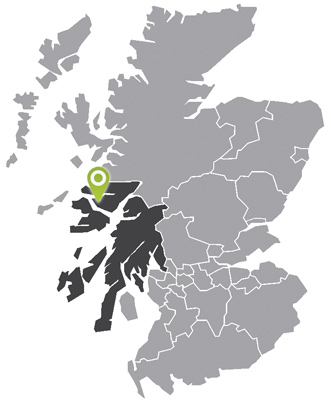 Activities to Try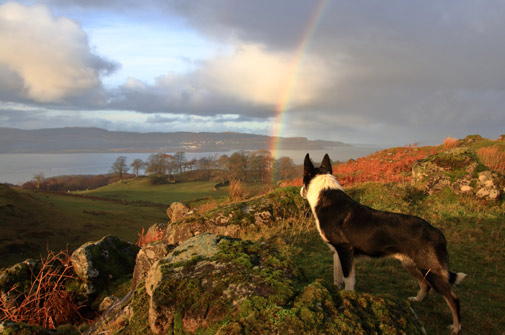 Family Friendly Outdoor Pursuits
Drimnin offers a variety of outdoor activities, from relaxed walks to cycling and fishing. There are 9 miles of coastline to explore with cliffs, rocky coves and tidal pools dotted along the shore, all of which are sure to be a hit with younger guests. If you prefer to wander through the trees, the woodlands of Mungosdail, Auliston and Drumbuidhe are three areas not to miss.
Why not pack a picnic and take a walk to one of Drimnin's spectacular beauty spots? The historic clearance village at Auliston Point has a magnificent spot to rest up and have lunch, as does St Columba's Chapel on the peninsula overlooking Tobermory, or the panoramic coastline view can be taken in from the hills above Port a' Bhata. With so many delightful options, guests are sure to be spoilt for choice. The estate also benefits from dark skies at night, occasionally allowing the Aurora Borealis (Northern Lights) to be witnessed which makes for the ideal opportunity to partake in some astrophotography.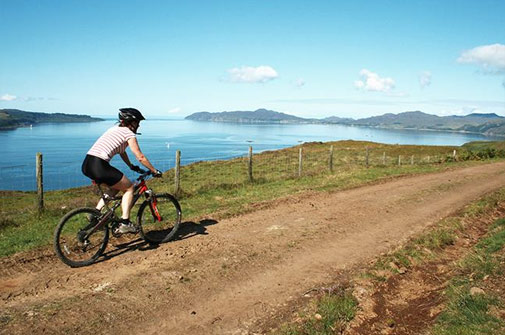 Sporting Activities
Drimnin's private 6 mile long estate track to Doirlinn provides keen cyclists with some of the most spectacular views of Scotland to be witnessed on two wheels. This beautiful, relaxing route is ideal for cyclists of any ability, making it the perfect choice for families. For those looking for something a little more adventurous and challenging the estate also has several rugged routes to really get the heart pumping. Mountain bikes and helmets are available for guests in the cottages although they can be very popular, so availability is not guaranteed. Guests are welcome to bring their own bicycles and the cottage outbuildings can be used for storage.
For the keen angler, fishing can be arranged via the estate office with the option to fish along the estate shoreline. Trout fishing is by permit only and rod and tackle hire is available free of charge for guests. Opportunities to feed the lambs and calves can be organised on request at certain times of the year which is sure to be a huge hit with younger guests.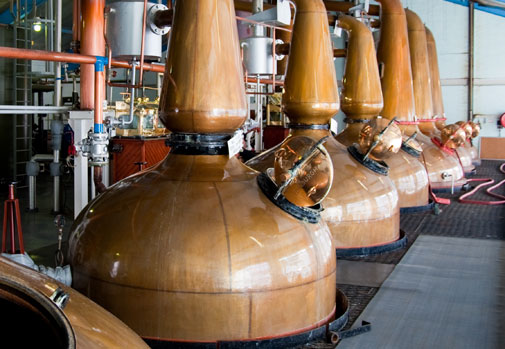 Activities in the Local Area
The estate has its very own whisky distillery. Opened in March 2017, they started distilling an organic single-malt whisky that was unique to them. Nc'nean Distillery's founder Annabel is keen to blend traditional techniques with new and innovative ideas, using the best of Scotland's ingredients to make their special tipple.
They also champion a sustainable approach and believe they are the first organic whisky distillery in Scotland. The stills used to produce the whisky are fuelled by woodchips from the local forests and all by-products are used on the farm as either fertiliser or feed. Their first (world record-breaking) whisky was released in 2020, and a limited number of early casks are for sale on request from the distillers.
Tours are available, where visitors can be escorted around and given a flavour of the distillery's daily routine whilst also sampling a wee dram or two while the experts explain their stories. Tours can be booked in advance through the distillery. For guests keen to sample the local produce, beef, lamb and venison can all be purchased on request. Some produce is seasonal, but the estate will be happy to advise on what they have available during your stay. During the summer months guests can also visit the Hayman Gallery, a Scottish artist painting dramatic landscapes, seascapes and wildlife.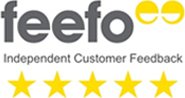 'Lovely setting. Everything provided and catered for, even dog treats! Cottage was cosy and homey.'

Achleanan Farmhouse
'Immaculately clean, stunningly beautiful location, we were made very welcome, even the dogs provided with towels, biscuits and a water bowl.'

Ena's Cottage
'Beautiful, remote location for those seeking a get away from it all break. Endless walks, wildlife, views. The visiting pine marten was the highlight.'

The Lodge
'Amazing cottage in a fantastic location, the cottage was lovely and warm and very comfortable.'

Achleanan Farmhouse