Applecross
The Applecross Peninsula is justly famous as one of the most breathtaking parts of the Scotland's altogether spectacular west coast. You reach Applecross village on its western shore via the dramatic Pass of the Cattle, though now you may also drive round the coast. Applecross has its own microclimate, with the little lanes of the village being banked with wild orchids and iris - this truly is an idyllic spot.
Toscaig, Applecross, Wester Ross
Sleeps: 2
Bedrooms: 1
Pets: Yes (2)
Changeover Day:
Sat




Sleeps: 2
Bedrooms: 1
Pets: No
Changeover Day:
Fri


Sleeps: 4
Bedrooms: 2
Pets: Yes (2)
Changeover Day:
Fri




A Beautiful Area to Explore
These linked, former estate cottages are beautifully situated just across a little dead-end village road from the pebble beach at Applecross (with pub, shop and PO), a little gem of a village on Scotland's spectacular west coast. Part of a picturesque terrace of such houses they have wonderful views out over the Inner Sound to Raasay and Skye and have a little private garden (with furniture) right on the sea front.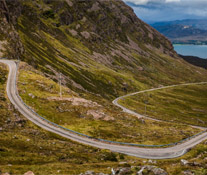 Inside, they have been modernised and completely refurbished to a high standard and are now both cosy and extremely comfortable. They are also within easy reach of the village pub (which serves bar meals), while there is a sandy beach within half a mile at Applecross Bay.
In the olden days there was no road access to Applecross and everything was brought in by sea. Now you can drive over the mountain 'Pass of the Cattle' or along the southern shores of Loch Torridon, where some of the oldest mountains in the world rear their massive cliffs against the sea.