Isle of Raasay
Stepping off the ferry on to this satellite of mainland Skye you are in another world and it is a delight. Gone are the crowds who throng the main island, all there is here is peace and tranquillity. The only village here is Inverarish, with a hotel and shop. It is a vibrant little community, though, and visitors are most welcome at the frequent concerts and ceilidhs there.
Sleeps: 2/6
Bedrooms: 3
Pets: No
Changeover Day:
Sat




Last Minute - w/c 02 Dec 23
Sleeps: 3
Bedrooms: 2
Pets: Yes (2)
Changeover Day:
Sat




Last Minute - w/c 02 Dec 23
A Peaceful and Tranquil Delight
There is only one road on Raasay. From the smart new landing stage it runs south through the village and round the south of the island.
A footpath then leads on up the eastern cliffs of the island, where you come on the remains of some of the cleared villages and a stone inscribed with Sorley MacLean's haunting elegy to one of them, Hallaig. The views here away to the mainland are mind-blowing, and this is certainly something on the island which should not be missed.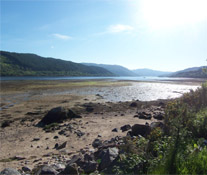 To the north, the road runs through ever wilder and lonelier country to join with another poignant memorial to Raasay's past, Calum's Road. When the local authority refused to extend the road to reach one of the increasingly isolated little communities in the north of the island, one of the crofters, Calum MacLeod, set to and built the road himself. It took him 10 years, using little more than a shovel, pick and wheelbarrow, and was finished in 1974, by which time only he and his wife were left in the area. The road remains as a testament to his courage and perseverance.