Supporting the Scottish Wildlife Trust
Scotland's wildlife and landscapes are set to benefit from a new partnership that we have introduced with the Scottish Wildlife Trust.
Our new charity initiative means that we will donate £25 to the Scottish Wildlife Trust for every booking of one week or more that is made with a special promotional code. This means that you can take relaxing breaks where you can enjoy the sights and sounds of Scotland's rich natural environment, whilst also helping to protect it.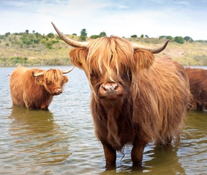 With a range of over 450 specially selected properties located right across Scotland ranging from beach cabins and converted farm steadings to bothies, estate cottages, lochside properties and a former lighthouse, there is something to suit everyone. Nearly 70% of our cottages are dog-friendly too and there are numerous options available for romantic breaks, group holidays with family and friends and wildlife-spotting holidays.
Many of our cottages are within easy reach of the Scottish Wildlife Trust's 120 nature reserves where visitors can see wildlife such as ospreys, beaver and red squirrels, and where they can enjoy stunning landscapes including spectacular waterfalls and ancient woodlands.
Mark Breed, our Managing Director, says: 'From feedback and photographs we receive from our customers, we know that Scotland's wildlife and landscapes are a huge draw so we're extremely pleased that we can now offer them the chance to assist with the work of the Scottish Wildlife Trust each time they book at one of our cottages.'
Head of Development for the Scottish Wildlife Trust, Lucy Graham, said: 'The Scottish Wildlife Trust would like to thank Unique Cottages for kindly donating £25 from every eligible booking. Enjoying Scotland's diverse wildlife is THE way to recharge your batteries on holiday. Many of the properties are in close proximity to our reserves, so we really feel that this is the perfect partnership – relaxation and Scottish wildlife.'
To book a break and help the work of the Scottish Wildlife Trust, book online or by phone on 01835 822277 quoting promo code SWT2015.
Further information on the Scottish Wildlife Trust and their valuable work can be found on their website at: https://scottishwildlifetrust.org.uk/.