Stirlingshire
Stirlingshire lies effectively in the centre of Scotland and with excellent road and rail connections in all directions it is a perfect base for touring. It has also been at the centre of the country's history through the ages - here were fought the Battle of Stirling Bridge and Bannockburn itself. Stirling itself is dominated by the spectacular castle on its rock, looking across to the Wallace Monument on the opposite hill.
Lovely Countryside to Explore
An amazingly short distance from the city are the lonely Fintry Hills. To the north west lies Callander, an attractive tourist town set amid glorious scenery, the Blair Drummond Safari Park, and the Lake of Menteith (Scotland's only lake). From there it is a short drive to the Trossachs and Loch Lomond. The area is within easy reach of both Edinburgh and Glasgow and has a superbly developed infrastructure.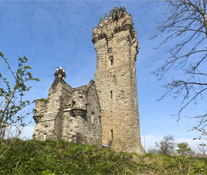 The Wallace Monument stands on a hill 2 miles north east of Stirling, near to the site of Wallace's victory at the Battle of Stirling Bridge in 1297. It was built by the Victorians to commemorate William Wallace who led the Scots in battle against the English in the late 13th century, to retain Scottish independence.
Wallace was knighted by King Robert the Bruce and appointed Guardian of Scotland but was eventually caught, tried for treason and beheaded by the English in 1305. Shortly later, in 1314, Robert the Bruce defeated the English at the Battle of Bannockburn on whose site stands the Bannockburn Heritage Centre with graphic interpretations of the battle and local history. This victory had a pivotal role in achieving Scottish independence from the English, culminating in the Declaration of Arbroath in 1320. North east of Stirling are the Ochil Hills with some attractive villages such as Blairlogie.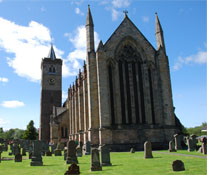 The 13th century Dunblane Cathedral lies 4 miles north of Stirling where a 9th century Pictish stone was unearthed during an 1890 restoration. Three miles west lies the well-preserved 14th century Doune Castle which guarded entry to the Highlands. It features a 30 metre gatehouse and was the location for the 1970s film Monty Python and the Holy Grail.
To the west of Stirling off the A811 are some picturesque villages including Kippen, Fintry and Drymen. The latter lie at the foothills of the Campsie Hills and the Campsie Fells Trail is a long walk through the countryside between these villages.
Falkirk lies about 10 miles south east of Stirling and is renowned for the engineering wonder of its 2002 Millennium-funded Falkirk Wheel which lifts boats in caissons between the Union Canal and Forth and Clyde Canal. There are boat trips and walks along the canals.
Quick Links Stirlingshire Areas