Stirling
Situated in the very heart of Scotland, Stirling is a splendid base for touring with easy access to the Highlands, Loch Lomond and the Trossachs. There is also plenty to see and do in historic Stirling itself.
Near Doune, Stirlingshire
Sleeps: 4
Bedrooms: 2
Pets: No
Changeover Day:
Sat


Sleeps: 4
Bedrooms: 2
Pets: No
Changeover Day:
Sat


A Fascinating City to Explore
Stirling is Scotland's newest city and in 2002 was awarded the title Queen's Jubilee City. It can be reached via the M9 from Edinburgh or the M80 from Glasgow. Its main attraction is the 14th century Stirling Castle which stands on a 250 foot high outcrop of rock overlooking the city.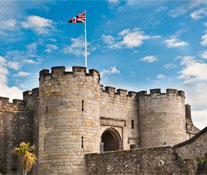 The winding cobbled streets leading up to the castle, its interesting interior and courtyards, and its long history makes it a magnet for tourists. The castle was the residence of the Stuart royal family during the 14th to 16th centuries and Mary Queen of Scots was crowned here in 1543.
The castle has many well-preserved features such as the 1503 Great Hall with impressive fireplaces, restored kitchens with audio visual display, the stone carvings and royal apartments in the Palace, the Chapel Royal, and the Argyll & Sutherland Highlanders Museum in the King's Old Building. In addition to guided tours, the Royal Burgh of Stirling Visitor Centre provides more information about the castle and the area.
The Old Town flourished in the 12th century when Stirling was appointed the title of Royal Burgh. In the 15th and 16th centuries, rich merchants built houses within the confines of the town walls, built in 1547 to protect Mary Queen of Scots from the romantic attentions of Henry VIII of England. Part of the walls remain and you can follow its circular route around the castle, known as the Back Walk. Two examples of such houses are the façade of the 16th century Mar's Wark built by the Earl of Mar (Regent to James VI of Scotland) but not completed and thus became a ruin, and the restored 17th century town house Argyll's Lodging which depicts the life of 17th century aristocrats, from the Earl of Stirling's state chair in the Drawing Room to the Great Kitchen.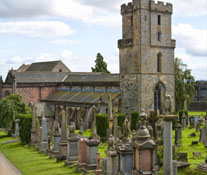 Other places of historical interest include the 15th century Church of the Holy Rude where James VI was crowned in 1567, John Cowane's hospital (built as an almshouse in 1637) and the Victorian Old Town Jail (from which there are ghost tours).
Stirlingshire lies effectively in the centre of Scotland and with excellent road and rail connections in all directions it is a perfect base for touring. It has also been at the centre of the country's history through the ages - here were fought the Battle of Stirling Bridge and Bannockburn itself. Stirling itself is dominated by the spectacular castle on its rock, looking across to the Wallace Monument on the opposite hill.