The Dalmunzie Estate
The beautiful Dalmunzie Estate near Blairgowrie in the heart of Perthshire extends to more than 6,500 acres in total so there is plenty to walk amongst and explore, with a local walking guide provided in each cottage. Wildlife spotting is certainly on the agenda here as deer, ptarmigan and grouse can be seen all around and those lucky enough may even manage to spot eagles soaring in the skies overhead.
Clay pigeon shooting can be tried out on the estate and there is even a 9 hole golf course to play a few rounds on amidst some wonderful scenery. Gorgeous mountain views can be enjoyed everywhere you look and there are lots of hills and mountains to climb for more strenuous hikes. Munro baggers have the chance to conquer some of the many nearby munros including the dome-shaped Glas Tulaichean and Carn an Righ.
A Packed Itinerary of Places to Visit
Glenshee, just 6 miles away, is widely known for being a hub for wintersports such as skiing and snowboarding with 22 different lifts that make light work of all the tough ascents. In the summer months the lifts are used to take visitors up to the mountain top to admire the amazing views and perhaps even have a go at geocaching.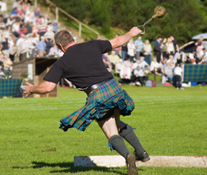 Whilst in the area there is the opportunity to take in some traditional Highland Games with the best known being the Braemar Gathering in Braemar (16 miles) that takes place every September and is usually attended my Her Majesty The Queen, along with other members of the Royal family.
Those on the whisky trail can take a tour of one of the region's fine distilleries to see how Scotland's national drink is produced, taste a 'wee dram' and buy some to take home for later. The Blair Athol Distillery, Edradour Distillery and Royal Lochnagar Distillery can all be found in under an hour's drive. Those who prefer a drop of gin will love visiting the Persie Gin Distillery at Bridge of Cally (12 miles) for a tour and tasting session.