Royal Deeside
It was Queen Victoria who can be credited with 'discovering' this amazing area, making it her Highland retreat and building her castle at Balmoral. It's been known as Royal Deeside ever since. She showed commendable taste, for the journey along the Dee from Aberdeen takes you through stupendous countryside of increasing grandeur, past the pretty town of Ballater to the tourist draw of Braemar.
A Truly Royal Experience
Royal Deeside is a beautiful area, renowned for its many castles and its salmon fishing and the Royal family have regularly spent holidays here since Queen Victoria bought the estate.
Glen Tanar, accessible via Aboyne (west of Banchory), is ideal for walking, horse riding and mountain biking. Ballater, 10 miles west of Aboyne, has a restored train station (although the railway line has been closed for a long time) with exhibits about the visits of the Royal family to Balmoral. There are many walks in the area including many from Loch Muik (9 miles south west of Ballater), one to the 400 metre Craigendarroch and more strenuous and lengthy walks up the 871 metre Morven and the 1154 metre Lochnagar.
To the West of the County
Balmoral Castle, 8 miles west of Ballater, was converted from a 16th century tower into a mansion house for Queen Victoria in 1855. Only a small part of the castle is open to the public and only for a few months in the year.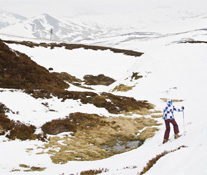 Braemar lies west of Balmoral at a height of 1,100 feet and is surrounded by mountains - good for hill walking and near to the ski resort of Glenshee, further south on the A93. Braemar hosts the Braemar Gathering (Highland Games) in September and has an interesting heritage centre.
From Braemar, a little road (that is ideal for cycling) leads past the other royal residence of Mar Lodge through a wide valley to the lovely Linn of Dee and then you can walk for miles in the Grampians and beyond them the Cairngorms.
You can also walk, or cycle if you're brave enough, for a couple of days cross country to Blair Atholl. There are also plenty of opportunities for mountain biking and horse riding. There are many walks starting at Inverey, five miles west of Braemar, including the long hike through the Lairig Ghru and the Glen Luibeg Circuit.