Braemar
Braemar is an attractive, large village with many shops and hotels in the heather-covered hills of Royal Deeside just west of Lochnagar Mountain (3,791 feet). Not far from The Queen's summer holiday retreat at Balmoral, it is about 40 miles north of Blairgowrie and 60 miles west of Aberdeen.
So Much to Explore
This is the 'big country' being in the area of the Grampian and Cairngorm mountains where there is magnificent scenery at all times of the year. Its many romantic old castles, lovely coastline, whisky distilleries, golf courses and famous fishing rivers make this a mecca for visitors.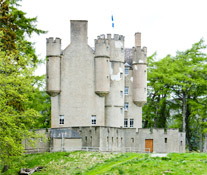 Braemar village, although small, is very well equipped with amenities including a gallery, visitor information centre and the Braemar Highland Heritage Centre which details the village's history. There is also a golf course and bike rental so that you can make use of the many mountain biking trails that have been set up all around the village. You can fish on the famous River Dee and history enthusiasts will also enjoy visiting Kindrochit Castle and nearby Braemar Castle.
The village is particularly famous for the Braemar Gathering, an annual event that is held on the first Saturday of September each year. It is the biggest event in the highland games calendar and is held in the Princess Royal and Duke of Fife Memorial Park right in the village. The event involves traditional highland games including tossing the caber and also has traditional Scottish pipe music and dancing. The Queen herself is usually in attendance, as the venue is near their residence at Balmoral.
Braemar is within the Cairngorms National Park where there are an abundance of activities including walking, climbing, cycling and water sports. It is also a haven for wildlife including many rare birds, otters, pine martens and even wild cats. In fact, 25% of the UK's endangered species can be found here!
You are also ideally placed for winter sports here as you are within 9 miles of Scotland's most extensive ski resort Glenshee. This 2,000 acre resort has skiing and snowboarding (with chair lifts), as well as ski lessons, a shop and equipment hire. The lively city of Aberdeen (all facilities) is only 90 minutes away and should not be missed.