Lochinver
Lochinver is a natural playground waiting to be explored. Nestled within the picturesque Scottish Highlands, this coastal village offers a breathtaking landscape of towering mountains, serene lochs, cascading waterfalls, and pristine beaches. Whether you seek adventure on the rugged peaks, tranquility by the shimmering waters, or the allure of sandy shores, Lochinver promises an unforgettable experience in Scotland's wild and untamed beauty.
Near Lochinver, Sutherland
Sleeps: 8/10
Bedrooms: 5
Pets: Yes (2)
Changeover Day:
Sun




Pristine Natural Beauty at its Finest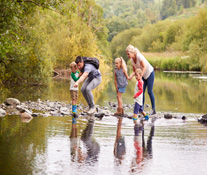 A paradise for hikers and nature enthusiasts, trails like Suilven and nearby Assynt hills provide opportunities for exploration, offering breathtaking vistas and a sense of tranquility that can only be found in the Scottish wilderness.
One of Lochinver's standout attractions is its pristine coastline. Achmelvich Beach, with its golden sands and crystal-clear waters, invites sunbathers and swimmers to bask in its beauty. For those interested in history and geology, the Assynt Visitor Centre provides valuable insights into the area's unique geological formations and rich cultural heritage.
Moreover, Lochinver is renowned for its seafood. Local restaurants offer the freshest catches from the nearby waters, making it a culinary delight for seafood connoisseurs. Whether you're interested in outdoor adventures, cultural exploration, or simply savoring the flavors of the sea, Lochinver offers an unforgettable Scottish experience in the heart of the Highlands.