Jedburgh
Situated at the end of a ten mile twisty stretch of the A68 as it climbs down from the Cheviot Hills at Carter Bar (the border between Scotland and England) is Jedburgh - a town steeped in history, which attracts many tourists. The restored old buildings and narrow wynds, places of historic interest, tartan shops and walks along the Jed Water make this an interesting place for everyone to visit.
Lots of Historical Interest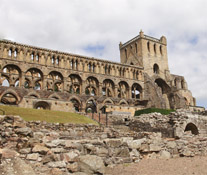 The main attraction here is Jedburgh Abbey which occupies a prominent position within the town. It was built in the 12th century as an Augustinian priory by King David I and destructed by the English in the 1540s. Its well-preserved ruins (with audio-visual presentations), Abbey Church and visitor centre provide abundant historical information about Jedburgh's history.
The Castle Jail at the top of Castlegate (up the hill from Market Place) was built in the 19th century on the site of the old royal castle where you can visit the cells and obtain information about crime and punishment in the olden days. Interesting displays (including her death mask) are to be found at Mary Queen of Scots House where she stayed in 1566 after her visit to the injured Earl of Bothwell, her future husband, at Hermitage Castle (south of Hawick). The house was owned by the Kerr family, an interesting feature being the staircases which spirals to the left for ease of sword-drawing - the origin of the Scots term 'kerry-haunded' meaning being left-handed.
Activities and Events
There are many walks around Jedburgh to suit all levels, from the relatively short town trail to 3-hour walks in the nearby countryside. The Teviot Water Gardens north-east of the town on the A698 is an interesting garden to view and has a shop and cafe. Nearby is a golf driving range and golf course. There is horse riding at Ferniehurst Mill Lodge, two miles south of Jedburgh with experienced riders being able to roam across part of the Cheviot Hills.
The Jethart Callant festival in late June/early July is one of the Borders Common Ridings commemorating the period of Scottish/English border raids. The Jedburgh Hand Ba' takes place in February in which the 'uppies' (born above Market Place) and the 'doonies' (born below) wrestle throughout the day to take a hay-stuffed leather ball, representing the head of an Englishman, to their end of town.
Harestanes Countryside Visitor Centre, north of Jedburgh on the B6400 provides an interesting day out for the family with wildlife exhibitions, an adventure playground, picnic areas, walks and craft centre.