Selkirkshire
A county of green-topped hills and quiet valleys, Selkirkshire forms a most peaceful base for a relaxing holiday. St Mary's Loch, lonely among the hills, is a favourite beauty spot and popular for picnics and sailing. The Duke of Buccleuch's home of Bowhill, just outside Selkirk itself, is another favourite attraction.
Lots of History to Explore
The county town of Selkirk is a historic one, annually hosting one of the original Border Festivals. This centres around the defeat at Flodden, when from the 65 men of the town who set forth to fight the English, only one, Fletcher, returned. He was too overwhelmed by what he had experienced to do more than cast his flag in silence in the marketplace.
Here, too, Sir Walter Scott was for many years the 'shirra' or local magistrate. His home at Abbotsford is just 4 miles away on the banks of the Tweed.
Around the Selkirk Area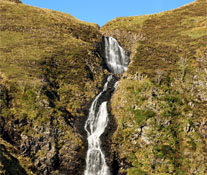 Follow the B7009 west out of the town up the Ettrick Valley. The 16th century Aikwood Tower has an exhibition of the life of James Hogg, the Ettrick Shepherd. Further on, you reach the tiny village of Ettrickbridge from where you can take a variety of walks followed by lunch or evening meal at the fascinating old pub (Cross Keys Hotel).
If you take the A708 west of Selkirk (parallel to the B7009) through the Yarrow valley you reach Bowhill House, the home of the Duke of Buccleuch, which has a fine collection of art and antique furniture. There is a small theatre in the courtyard and extensive grounds including an adventure playground, cycle trails (can be hired) and pleasant walks.
Continue along the A708 towards the youth hostel near Yarrowford from where you can walk up the 464 metre high Three Brethern which commands magnificent views of the Borders. The A708 leads eventually leads you to St Mary's Loch where you can swim, sail and have a snack at the caf' or a bar meal at the Tibbie Shiels Inn before attempting the steep climb on the narrow path beside the 200 foot Grey Mare's Tail (a waterfall), about 6 miles south, or joining the Southern Upland Way.