Selkirk
Selkirk is a small town lying six miles south of Galashiels on the A7 on a terrace of hills above the Ettrick Water. It has a rich history and in the mid-1700s had a strong shoemaking industry, which provided 2,000 pairs of shoes for Bonnie Prince Charlie's army. From the 1800s onwards it was a thriving tweed mill town and today Locharron of Scotland carries on that tradition as the world's leading tartan manufacturer.
Lots to See and Do
Selkirk was originally a thriving tweed mill town although this industry is now much reduced. The main visitor attraction is Halliwell's House Museum (free entry, open April to October) which was built in 1712 and hosts exhibitions of local historical interest with an adjoining art gallery.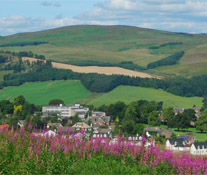 Sir Walter Scott's Court Room (where he was sheriff for over 30 years) displays an exhibition of his life and literary work and provides background information on Mungo Park, the local explorer and anti-slavery advocate who died in his attempt to find the River Niger.
The town has a fitness centre and tennis courts and each summer hundreds of riders take part in the Selkirk Common Riding, a 400 year old tradition that harks back to the Battle of Flodden. The Twist Glass Studio offers a range of contemporary glassware and Bowhill House is just 3 miles away. This historic house and country estate is open to the public (guided tours available) and even has an adventure playground in the woods that is sure to keep children amused.