Inveraray
The traditional town of Inveraray, situated on the shore of Loch Fyne, was founded by the Duke of Argyll in 1745. This planned town is very picturesque with fine examples of Georgian architecture. The black and white frontages of the buildings are iconic and add to its character.
The Gateway to Argyll and the Islands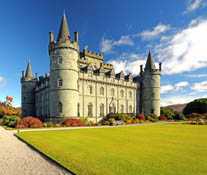 Inveraray has several visitor attractions including 18th century Inveraray Castle, the family home of the Duke of Argyll and Chief of the Campbell clan. The castle is open to the public and has an extensive display of weapons used against the Jacobites. You can explore the castle itself or have a stroll through its 16 acres of beautiful gardens.
Nearby Inveraray Jail has a living museum where you can view a court hearing and have costumed characters give you an insight into how life would have been in the jail in the 19th century - you can even try out some of the punishments the prisoners had to endure!
Just outside Inveraray is Argyll Adventures where you can go paintballing and rock climbing or have a go on a bungee trampoline – a perfect day out for the children.
Other attractions in the area include the Inveraray Maritime Heritage Museum that is situated in one of the last iron sailing ships and the Auchindrain Township Open Air Museum. The museum is the last remaining example of a township, which would once have been typical in Scotland, now carefully preserved to show us what life would once have been like for the people who lived and worked there before the Highland Clearances.
To the North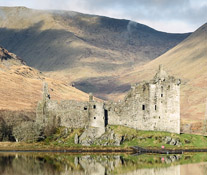 The A819 north of Inveraray leads to the long and narrow inland Loch Awe where the photogenic ruins of Kilchurn Castle sit on a small island at the head of the loch. Travelling west on the A85, you reach the village of Loch Awe and the hydroelectric Cruachan Power Station, built in 1965 within the mountain - a popular tourist attraction.
Taynuilt, six miles further west, is an industrial heritage site featuring Bonawe Iron Furnace built in 1753 on the shores of Loch Etive with the Inverawe Fisheries and Smokery a few miles east.
South of Inveraray
The A83 runs south down the western shores of Loch Fyne to Lochgilphead, the administrative and retail centre of the area with few attractions. However, the Crinan Canal, accessed a couple of miles north on the A816, used by many yachtsmen to avoid the long sail around Kintyre to the Firth of Clyde, is fascinating and the views from the fishing village of Crinan are stunning, overlooking the sea towards Jura and many tiny islands.
It is worth travelling the single-track road to the picturesque village of Tayvallich, a popular mooring for yachtsmen, set in a secluded bay off Loch Sween and surrounded by extensive forests. The minor road on the eastern shore of Loch Sween lead to the ruins of the 11th century Castle Sween and 13th century Kilmory Knap Chapel.